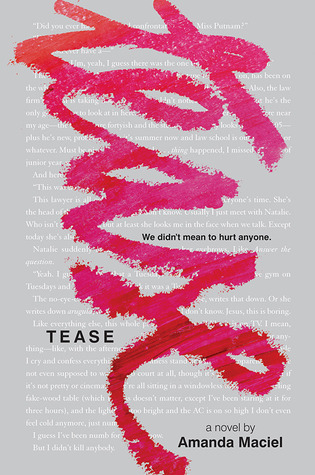 Title:
Tease
Series:
Amanda Maciel
Format:
Hardcover
Release Date:
April 29th, 2014
My Rating:
4.5 out of 5.0
From debut author Amanda Maciel comes a provocative and unforgettable novel, inspired by real-life incidents, about a teenage girl who faces criminal charges for bullying after a classmate commits suicide.

Emma Putnam is dead, and it's all Sara Wharton's fault. At least, that's what everyone seems to think. Sara, along with her best friend and three other classmates, has been criminally charged for the bullying and harassment that led to Emma's shocking suicide. Now Sara is the one who's ostracized, already guilty according to her peers, the community, and the media. In the summer before her senior year, in between meetings with lawyers and a court-recommended therapist, Sara is forced to reflect on the events that brought her to this moment—and ultimately consider her own role in an undeniable tragedy. And she'll have to find a way to move forward, even when it feels like her own life is over.

With its powerful narrative, unconventional point of view, and strong anti-bullying theme, this coming-of-age story offers smart, insightful, and nuanced views on high school society, toxic friendships, and family relationships.

Supports the Common Core State Standards.
My Review:
This was a rather had book to finish, not as in it's boring or just difficult to read. The topic of this book is just done so well, and it's done through an unorthodox way. I knew this book was about suicide and bullying, however I didn't know what perspective the book would be told from. This book is told from the girl's perspective who bullied the victim, however in this case both are the victims. It's hard to see, and a lot of people feel sorry for the suicide victim and the bully, that we don't take the time look how we treat the bully.

Emma Putnam in the case is the victim and it's hard to doubt that, since she did kill herself. On the other hand though Sara Wharton and her friend Brielle are to blame completely. They bullied her pretty ruthlessly but at the same time I think she's a victim (I'll get on to that later). The story takes part after Emma is dead and Sara is part of a large trial in which Emma's parents are hellbent on holding someone accountable.

I want to take a moment to talk about Sara, frankly I thought she was this girl who went with things. She wasn't very self-confident to tell her friends no, or advise them to do other things. So while, Brielle acted a bit rash and hateful, Sara was just caught up in the moment that she went along with it, but at the same time she knew what she was doing. I find that she is accountable, but at the same time, during the trial she is turned on and torn apart by the media and school.

While I say that Sara is to blame for part of it, it's what happens to her after and during the trial. Sara is turned on and bullied by far more than just two, her family almost doesn't really recognize her and her friends turn against her. No I'm not saying you pity her or coddle her, but you don't turn and make a martyr out of her. She is ostracized from everything she normally does, and has to find friends and someone to confide in an odd place. This is what I find the main point of the book, how society turns on the bully and in turns becoming the bully themselves and making the life of the person just as miserable.

What I find surprising in this book is it's told from a girls perspective who is actually sorry and doesn't believe she wanted Emma to die. The perspective is fresh and while the topic may hit a little close to home, it's done so well. If you have a book club, this should be on your list some place. Or you have a class/discussion that talks about bullying, this book is a must. Frankly this book is superb, and is by far one of my favorite books of the year. It made me question how society views the bully afterwards and how they must feel (well most of the bullies), and I am sure it will do the same to every reader.