Flashback Friday is a weekly event, hosted here, that highlights a past release that we're dying to get our hands on...
See something you like here?
Click the book title to add it to your Goodreads TBR List!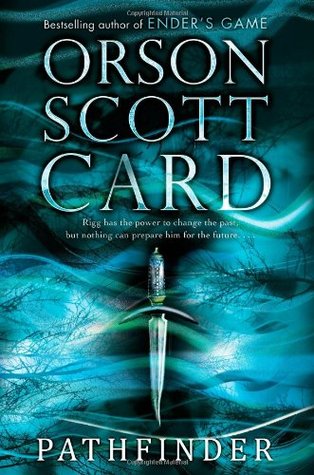 A powerful secret. A dangerous path.

Rigg is well trained at keeping secrets. Only his father knows the truth about Rigg's strange talent for seeing the paths of people's pasts. But when his father dies, Rigg is stunned to learn just how many secrets Father had kept from him--secrets about Rigg's own past, his identity, and his destiny. And when Rigg discovers that he has the power not only to see the past, but also to change it, his future suddenly becomes anything but certain.

Rigg's birthright sets him on a path that leaves him caught between two factions, one that wants him crowned and one that wants him dead. He will be forced to question everything he thinks he knows, choose who to trust, and push the limits of his talent…or forfeit control of his destiny.
My Stance:
So going through a local-ish used bookstore I found the second book in this series (Ruins) and the condition was just flat out perfect. I read the synopsis over and over, and while I haven't read Ender's Game at all, just Ruins was a book that I couldn't pass up. This brings Pathfinder to a great topping chart of books that need to be added to my shelf. I also saw a few other books that completed some series, they will be featured in Stacking the Shelves later.

Pathfinder is a book that frankly I wasn't sure of at first. I wanted to read Ender's Game to judge Card's work, and while I haven't I find that I am still interested in this book. The way Riggs is molded into a complex teen that has a talent that isn't as easy as it sounds. Being able to see people's past, he doesn't realize the path's he can see, he is able to change. Which immediately brings the question, would it be right to change their past? Morally speaking that is. And to what extent would it change reality and how would that change in the path change time and effect the current reality. The whole Back to the Future time continuum.

I am curious to see where this book takes that talent, and the two groups that have polar opposite views on how his talent should be accounted for. In a world all alone just who will Rigg's trust and well what time is reality, will there be robots from the future and dinosaurs from the past? I love the amount of potential in this book. Further, hope that there is some romance or some relationship that gives Riggs a point to use his ability for a purpose and not just randomly to save other people. Give him a personal attachment to that talent, or a moral dilemma that haunts him.