Waiting On Wednesday is a weekly event, hosted over at Breaking The Spine, that spotlights upcoming releases that we're eagerly anticipating.
See something you like here?
Click the book title to add it to your Goodreads TBR List!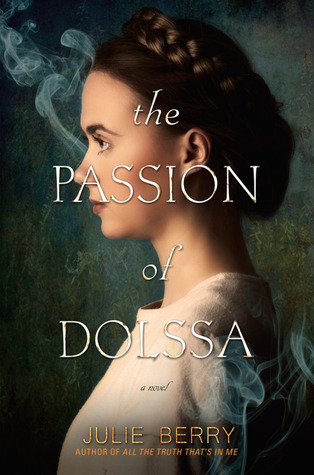 Title:
The Passion of Dolssa
Author:
Julie Berry
Format:
Hardcover
Release Date:
April 12th, 2016
I must write this account, and when I have finished, I will burn it.

Buried deep within the archives of a convent in medieval France is an untold story of love, loss, and wonder and the two girls at the heart of it all.

Dolssa is an upper-crust city girl with a secret lover and an uncanny gift. Branded a heretic, she's on the run from the friar who condemned her mother to death by fire, and wants Dolssa executed, too.

Botille is a matchmaker and a tavern-keeper, struggling to keep herself and her sisters on the right side of the law in their seaside town of Bajas.

When their lives collide by a dark riverside, Botille rescues a dying Dolssa and conceals her in the tavern, where an unlikely friendship blooms. Aided by her sisters and Symo, her surly but loyal neighbor, Botille nurses Dolssa back to health and hides her from her pursuers. But all of Botille's tricks, tales, and cleverness can't protect them forever, and when the full wrath of the Church bears down upon Bajas, Dolssa's passion and Botille's good intentions could destroy the entire village.

From the author of the award-winning All the Truth That's in Me comes a spellbinding thriller that will keep you on the edge of your seat until the final page and make you wonder if miracles really are possible.
My Stance:
I loved All the Truth That's in Me so much that at the end of the book I immediately added Berry to my favorite author list. That book was so well written, the anguish and growth from the characters and was so great, and how Judith overcomes her trauma and still managed to be better. I am hoping for another monster of a book again in this novel and from the sounds it may be just that.

Dolssa and Botille and such odd names, but I guess the book does take place in France. What am interested in is how Dolssa end up near death, I understand that the Church is after her for being a heretic. I am curious on why she is a heretic as well, I mean it could be something like being a witch or just some odd science over church incident. Which opens the door to explore her character as well, and I doubt that Berry will let that go to waste.

Botille seems pretty self explanatory, her character just seems so one dimensional. I hope she's the one that surprises me the most. Who knows maybe the secret lover that Dolssa has is female and that's why she's a heretic, and being the kind woman that Botille is, she hides the two of them away. I am intrigued to get my hands on this book, it has the potential to be another good book from Berry.