Waiting On Wednesday is a weekly event, hosted over at Breaking The Spine, that spotlights upcoming releases that we're eagerly anticipating.
See something you like here?
Click the book title to add it to your Goodreads TBR List!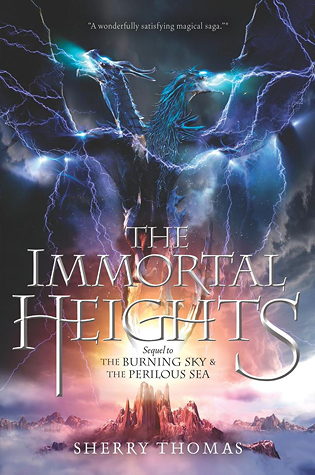 Title:
The Immortal Heights
Author:
Sherry Thomas
Format:
Hardcover
Release Date:
October 13th, 2015
In a pursuit that has spanned continents, Iolanthe, Titus, and their friends have always managed to remain one step ahead of the forces of Atlantis. But now the Bane, the monstrous tyrant who bestrides the entire mage world, has issued his ultimatum: Titus must hand over Iolanthe, or watch as his entire realm is destroyed in a deadly rampage. Running out of time and options, Iolanthe and Titus must act decisively to deliver a final blow to the Bane, ending his reign of terror for good.

However, getting to the Bane means accomplishing the impossible—finding a way to infiltrate his crypt in the deepest recesses of the most ferociously guarded fortress in Atlantis. And everything is only made more difficult when new prophecies come to light, foretelling a doomed effort....

Iolanthe and Titus will put their love and their lives on the line. But will it be enough?

With The Immortal Heights, Sherry Thomas brings the acclaimed Elemental Trilogy to its breathtaking conclusion.
My Stance:
The conclusion of the Elemental Trilogy is here. With it comes more fantasy and turmoil than previously. I have the other two books, but they aren't high on my list. I am thinking about bingeing the series, it's one of those that I think would be better all in one sitting. I am eager to get to the series, it seems like a good read, and I've heard some decent reviews on Goodreads as well.

I have always wanted to read a good atlantis book, and while this seems like one of the forefront books of the series. I am looking at the high fantasy series as sort of a Divergent/The Young Elites sort of. Maybe I am mistaken on my interpretation on the series, but there are pieces that resemble both of them. Atlantis is sort of like Roman mythology for me, I prefer Roman more so, but Atlantis is good. The thing with Atlantis is there's a wide selection of stories, but there isn't a lot of them that aren't all that great.