Waiting On Wednesday is a weekly event, hosted over at Breaking The Spine, that spotlights upcoming releases that we're eagerly anticipating.
See something you like here?
Click the book title to add it to your Goodreads TBR List!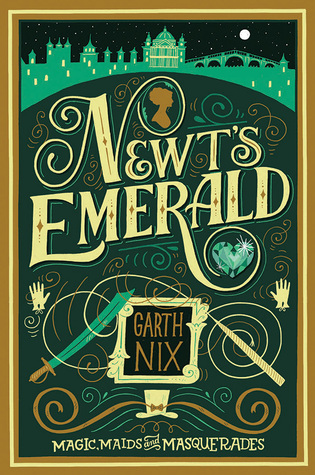 Title:
Newt's Emerald
Author:
Garth Nix
Format:
Hardcover
Release Date:
October 13th, 2015
Lady Truthful will inherit her family's most valued heirloom on her eighteenth birthday. Until the Newington Emerald is stolen.

Lady Truthful, nicknamed "Newt" by her boy cousins, discovers that to her horror, the people closest to her have been framed for the theft. But Newt won't let their reputations be damaged by rumors from a false accusation. Her plan is simple: go to London to recover the missing jewel. Despite her best intentions, a young lady travelling alone is frankly unacceptable behavior. So Newt and her aunt devise another plan…one that entails men's clothing and a mustache.

While in disguise, Truthful encounters the handsome but shrewd major Harnett, who to her amazement volunteers to help find the missing emerald under the assumption that she is a man, Henri de Vienne. But once she and her unsuspecting ally are caught up in a dangerous adventure, Truthful realizes something else is afoot: the beating of her heart.

Truthful has far more than romantic complications to worry about. The stolen emerald is no ordinary heirloom-it is the source of the family's luck and has the power to yield vast magic. It would be completely disastrous if it fell into the wrong hands. The fate of England depends on Truthful securing the emerald.
My Stance:
On my shelf is the Sabriel series, and while I have heard great things about Garth Nix I haven't really gotten into any of his books yet. I've been looking for something simple and easy to get into, and this may be just the book. It's a solo book thus far, and I love how it's sort of contemporary but at the same time has a bit of fantasy. I get the feeling this is sort of an old timey book, as in it takes place in the past like the 1800s. I love the fashion around that time era, but there is something that drives this book further and further.

Garth Nix is one of those authors that's held pretty high above everyone else. I guess I can understand why at times, but having not read any of his work, I want something that I would enjoy and something almost safe for my taste in books. Which gets me to this book reminding me of Leviathan by Scott Westerfeld, the whole bit of dressing like a man and impersonating one just to get what you need done done. Something tells me also that there will be a bit of a complication similar to that in Leviathan. However the whole contemporary and fantasy bit gives me a sort of sense of urgency, and awe for how this book will end.