The Martian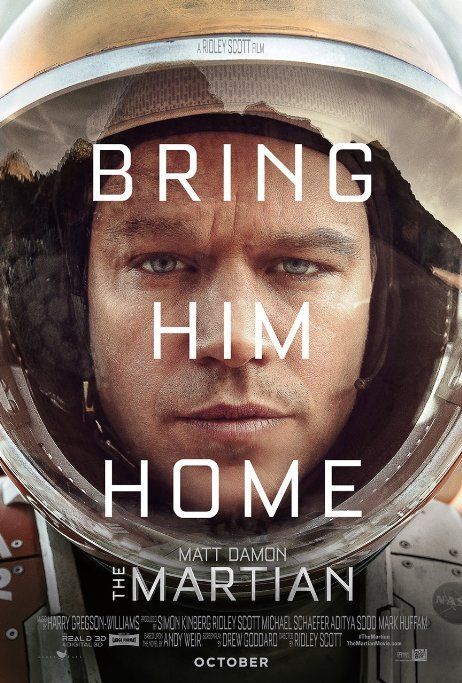 Title:
The Martian
Director:
Ridley Scott
Author:
Andy Weir
Release Date:
February 11, 2014
Rating: 9.5
Out of 10
During a manned mission to Mars, Astronaut Mark Watney is presumed dead after a fierce storm and left behind by his crew. But Watney has survived and finds himself stranded and alone on the hostile planet. With only meager supplies, he must draw upon his ingenuity, wit and spirit to subsist and find a way to signal to Earth that he is alive.
From the Book:
Six days ago, astronaut Mark Watney became one of the first people to walk on Mars. Now, he's sure he'll be the first person to die there. After a dust storm nearly kills him & forces his crew to evacuate while thinking him dead, Mark finds himself stranded & completely alone with no way to even signal Earth that he's alive—& even if he could get word out, his supplies would be gone long before a rescue could arrive. Chances are, though, he won't have time to starve to death. The damaged machinery, unforgiving environment or plain-old "human error" are much more likely to kill him first. But Mark isn't ready to give up yet. Drawing on his ingenuity, his engineering skills—& a relentless, dogged refusal to quit—he steadfastly confronts one seemingly insurmountable obstacle after the next. Will his resourcefulness be enough to overcome the impossible odds against him?
My Review:
This is the type of movie that makes me want to read the book. When I say that this is one of my top picks, if not THE top pick, of the year, I am not kidding. This movie leapt above all others in any sort of comparison. First off I may be a bit biased on this one. I say this probably more than I should, but I want to be honest with everyone. I am a fan of Matt Damon; he's a great actor and one of my favorites. So everything and anything that he's in, touched, or part of I go and see.

So whoever wrote the screenplay, the script, or if any of this was ad libbed in any way, I have to commend each and every one of them. The story and the plot was just fantastic, there is so much to this movie that I honestly can't do it justice. There was so much emotion, and I honestly can't tell you enough how much I wanted Mark Watney to survive. I think that's why this movie did so well, there's not a lot of movies that grabs the audience's attention and makes them want the ending. Who cares whether they expect the ending coming or if the direction is clear, if you can evoke them into the movie and make them desire and want that ending.

There are so many actors in this movie who just nailed their roll. I would have to say that even if some of them were mediocre, the story may carry them, but they just got it right. If you want to know who is in it, I encourage you to check out IMDb, the cast is all there and the cast is just stellar. I am not surprised this movie did so well with the cast, and the experience to land some of the roles, given how dynamic and complex some of the characters were and on a short screen time. It's just great and I wish there were more movies like this.

Lately I feel that some of the studios have been taking a great movie and the hype and the talk about the movie is there. However when it comes time to release they forgot somewhere along the line of who is actually going to see the movie. I don't think The Martian had that problem at all. It's beautiful and this is one of the fewer movies that yea the shorter version is more, but I want the extended edition because I don't want to believe that's all. I want more because it's so good, there has to be more. I just hope The Martian gets half the recognition it deserves.