Flashback Friday is a weekly event, hosted here, that highlights a past release that we're dying to get our hands on...
See something you like here?
Click the book title to add it to your Goodreads TBR List!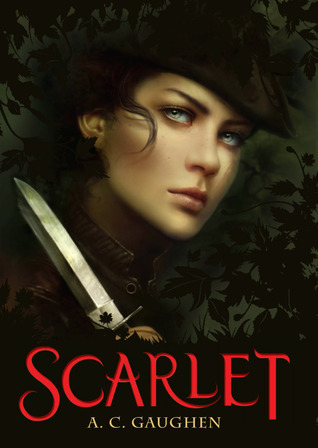 Will Scarlet is good at two things: stealing from the rich and keeping secrets - skills that are in high demand in Robin Hood's band of thieves, who protect the people of Nottingham from the evil sheriff. Scarlet's biggest secret of all is one only Robin and his men know...that she is posing as a thief; that the slip of a boy who is fast with sharp knives is really a girl.

The terrible events in her past that led Scarlet to hide her real identity are in danger of being exposed when the thief taker Lord Gisbourne arrives in town to rid Nottingham of the Hood and his men once and for all. As Gisbourne closes in and puts innocent lives at risk, Scarlet must decide how much the people of Nottingham mean to her, especially John Little, a flirtatious fellow outlaw, and Robin, whose quick smiles have the rare power to unsettle her. There is real honor among these thieves and so much more - making this a fight worth dying for.
My Stance:
So I have not been in to retellings that much lately, and there were a few of these laying around some bookstores, and the cover is what caught my eye. I haven't really looked at them before hand, but this sounds great. I mean it's not really about Robin, but it does sort of retell some of the events that happened. My question though is what is Scarlets real name? I love how the story takes this girl and while she's thought to be a man, she's an equal. It's something like this novel that gives me hope equality will come.

So what more or less got me into the series was the whole thief and Robin Hood bit. What I don't understand is her relationship with Robin. I mean are they together or is that something I'll see as it goes? I hope so, but at the same time what happens to Maid Marrian or is this before her? Either way the whole bit of her hiding in plain sight is great. Again I don't see how Lord Gisbourne is going to out her if she's already established her place. What does it matter if she is outed anyways, normally thieves base their respect off of skill and jobs, so it shouldn't really matter. I am just hoping this book doesn't take some liberties and too big of risks. On a side note, I enjoy a good Robin Hood every now and then, I don't think there is much that can go wrong here.