Waiting On Wednesday is a weekly event, hosted over at Breaking The Spine, that spotlights upcoming releases that we're eagerly anticipating.
See something you like here?
Click the book title to add it to your Goodreads TBR List!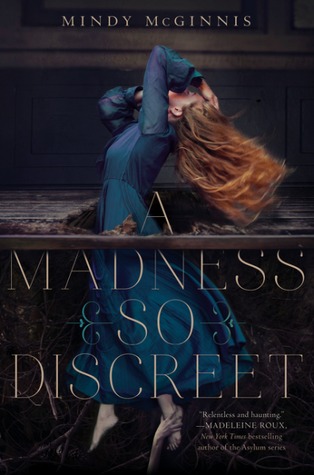 Title:
A Madness So Discreet
Author:
Mindy McGinnis
Format:
Hardcover
Release Date:
October 6th, 2015
Grace Mae knows madness.

She keeps it locked away, along with her voice, trapped deep inside a brilliant mind that cannot forget horrific family secrets. Those secrets, along with the bulge in her belly, land her in a Boston insane asylum.

When her voice returns in a burst of violence, Grace is banished to the dark cellars, where her mind is discovered by a visiting doctor who dabbles in the new study of criminal psychology. With her keen eyes and sharp memory, Grace will make the perfect assistant at crime scenes. Escaping from Boston to the safety of an ethical Ohio asylum, Grace finds friendship and hope, hints of a life she should have had. But gruesome nights bring Grace and the doctor into the circle of a killer who stalks young women. Grace, continuing to operate under the cloak of madness, must hunt a murderer while she confronts the demons in her own past.

In this beautifully twisted historical thriller, Mindy McGinnis, acclaimed author of Not a Drop to Drink and In a Handful of Dust, explores the fine line between sanity and insanity, good and evil—and the madness that exists in all of us.
My Stance:
Mindy McGinnis is a work of art, how she writes to the story she creates. I am a huge fan, so when this book hit Goodreads, there was no doubt I would fawn over it. Grace while being a victim, I assume, of some horrid family secret, or something, is kept silent and sent to an insane asylum. What I fear the most is if Grace is pregnant, more for what it could mean to her character and what could have happened to her. I know that most books don't get me this worked up in just a synopsis, but this one is almost twisted and I like the implication and or the idea that's here so far. I just wish there was more information on what nightmares happened to her.

There is just something about how dark McGinnis's books are, and this isn't an exception. I love how her novels are sort of twisted and dark, but they just tend to tell the story as it is. There is no sugar coating the story with her. With Grace, McGinnis isn't an exception at all. This whole thing of being an assistant for crime scenes, sounds like Grace is making her life better. However, whatever is holding her together, is threatened by some of the nightmares in the closet. I like the dark and exploitative way Grace is built, along with the dark past. McGinnis has built a wonderful novel to start a series with.