Waiting On Wednesday is a weekly event, hosted over at Breaking The Spine, that spotlights upcoming releases that we're eagerly anticipating.
See something you like here?
Click the book title to add it to your Goodreads TBR List!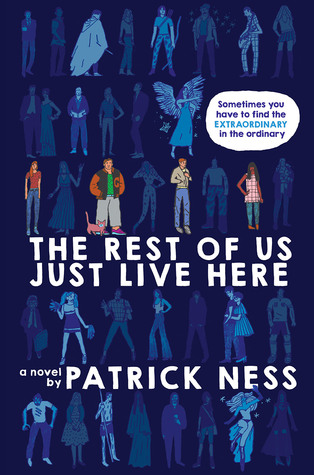 Title:
The Rest of Us Just Live Here
Author:
Patrick Ness
Format:
Hardcover
Release Date:
October 6th, 2015
What if you aren't the Chosen One?

The one who's supposed to fight the zombies, or the soul-eating ghosts, or whatever the heck this new thing is, with the blue lights and the death?

What if you're like Mikey? Who just wants to graduate and go to prom and maybe finally work up the courage to ask Henna out before someone goes and blows up the high school. Again.

Because sometimes there are problems bigger than this week's end of the world, and sometimes you just have to find the extraordinary in your ordinary life.

Even if your best friend is worshiped by mountain lions.

Award-winning writer Patrick Ness's bold and irreverent novel powerfully reminds us that there are many different types of remarkable.
My Stance:
Patrick Ness has always caught my eye, specifically with The Knife of Never Letting Go, and this book just sort of stood out and confused me. You normally get an idea for what a book is by the synopsis, however in The Rest of Us Just Live Here, there's something about the book that leaves nothing disclosed. I absolutely have no idea what this book is even about, and frankly that worries me. I have faith in Patrick Ness. I am curious about where this particular novel is going, and I am looking forward to the book. The novel perplexes me, who is the main character? And what exactly does he or she act like? I am curious to see what Ness puts forth.

Normally, I talk a bit and voice my opinion while just trying to guess what is going to happen or my worries with a book. However, in this case there's not a lot to go off of, so I will go off the deep and and just try to guess. I think the book pertains to a lot of superheroes. There's heroes around in their world, and there are those that just stumble by normally. I think the book is about a normal person who hasn't done the elegant or asked that girl out. I wonder what that person would do, what he needs to do. This is speculation, but the potential on this synopsis is boundless, even if it's completely vague.