Waiting On Wednesday is a weekly event, hosted over at Breaking The Spine, that spotlights upcoming releases that we're eagerly anticipating.
See something you like here?
Click the book title to add it to your Goodreads TBR List!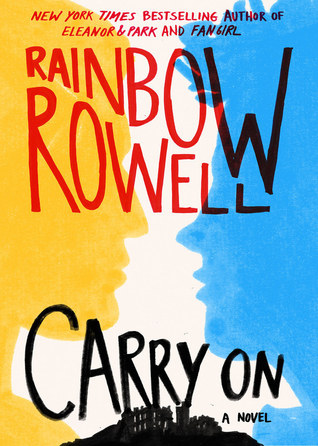 Title:
Carry On
Author:
Rainbow Rowell
Format:
Hardcover
Release Date:
October 6th, 2015
Rainbow Rowell continues to break boundaries with Carry On, an epic fantasy following the triumphs and heartaches of Simon and Baz from her beloved bestseller Fangirl.

Simon Snow just wants to relax and savor his last year at the Watford School of Magicks, but no one will let him. His girlfriend broke up with him, his best friend is a pest, and his mentor keeps trying to hide him away in the mountains where maybe he'll be safe. Simon can't even enjoy the fact that his roommate and longtime nemesis is missing, because he can't stop worrying about the evil git. Plus there are ghosts. And vampires. And actual evil things trying to shut Simon down. When you're the most powerful magician the world has ever known, you never get to relax and savor anything.

Carry On is a ghost story, a love story, a mystery and a melodrama. It has just as much kissing and talking as you'd expect from a Rainbow Rowell story — but far, far more monsters.
My Stance:
Rainbow Rowell, is one of the authors that when I started reading her novels, I wasn't sure I would enjoy her. Now she's one of the few that I follow regularly, I want to read everything she puts out. She's a great author, one of the best. So when I heard that she's got a fantasy novel coming out, you can bet I was quick to fall in line. I am more than curious about the novel and how Rainbow Rowell is going to pull it off. What I don't understand though, is the synopsis talks about kissing, however there's no mention of a significant other or a relationship. I don't doubt that Rowell will work it in.

Carry on is a long jog from what Rowell normally does, normally with any other author I would have reservations about venturing out of an author's comfort zone. This is something about Rowel that I have faith in, and Simon just seems like a great character to get to know. Something about how a magician being thrust into a normal world, and like Jim Butcher, I am left wondering if the real world even knows that the underbelly even exists. A magician, while being totally basic and borderline overdone, there is something about how Simon deals with the world. There is a sort of paranoid bit that catches my eye, and I can't wait to read more about him.