Waiting On Wednesday is a weekly event, hosted over at Breaking The Spine, that spotlights upcoming releases that we're eagerly anticipating.
See something you like here?
Click the book title to add it to your Goodreads TBR List!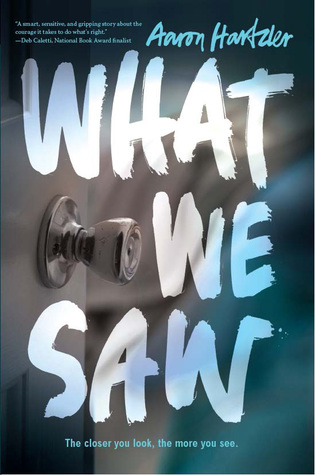 Title:
What We Saw
Author:
Aaron Hartzler
Format:
Hardcover
Release Date:
September 29th, 2015
Kate Weston can piece together most of the bash at John Doone's house: shots with Stacey Stallard, Ben Cody taking her keys and getting her home early—the feeling that maybe he's becoming more than just the guy she's known since they were kids.

But when a picture of Stacey passed out over Deacon Mills's shoulder appears online the next morning, Kate suspects she doesn't have all the details. When Stacey levels charges against four of Kate's classmates, the whole town erupts into controversy. Facts that can't be ignored begin to surface, and every answer Kate finds leads back to the same question: Where was Ben when a terrible crime was committed?

This story—inspired by real events—from debut novelist Aaron Hartzler takes an unflinching look at silence as a form of complicity. It's a book about the high stakes of speaking up, and the razor thin line between guilt and innocence that so often gets blurred, one hundred and forty characters at a time.
My Stance:
This book normally wouldn't cross my radar, but there was just someone who happened to read this book and the review was just too much to ignore. From what I have gathered, the book is about a girl who gets raped at a party and her friend being taken home early is suspecting her boyfriend of taking a step further. However, what she doesn't understand is the complete series of events that have taken place the night before at the party. However the following days she starts to get pieces of what happened at that party. Normally I can only handle so many of these books. The authors just nail it so deep and emotionally that I either can't stand one of the characters (main or supporting), and I tend to be driven away by the reaction, their separate actions, or their perception of the world around them. I just don't seem to buy them and part of the time, I get a little unnerved.

I was looking at this book, and while there is something about it that does unnerve me. However, it's more about how the characters stay silent. I love the thought that even the lines of innocent and guilty are blurred when no one wants to talk. If no one talks about the incident, who do you determine the guilty is and the who the innocent are? That is the reason I am looking forward to this book, and mainly I am looking forward to seeing just how things turn out.