Waiting On Wednesday is a weekly event, hosted over at Breaking The Spine, that spotlights upcoming releases that we're eagerly anticipating.
See something you like here?
Click the book title to add it to your Goodreads TBR List!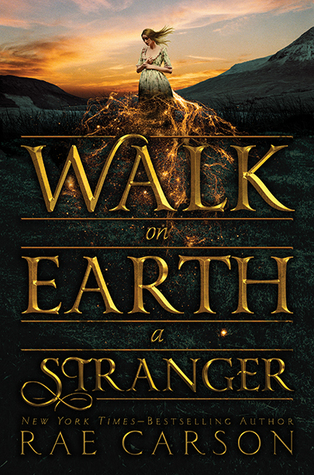 Title:
Walk on Earth a Stranger
Author:
Rae Carson
Format:
Hardcover
Release Date:
September 22nd, 2015
Lee Westfall has a secret. She can sense the presence of gold in the world around her. Veins deep beneath the earth, pebbles in the river, nuggets dug up from the forest floor. The buzz of gold means warmth and life and home—until everything is ripped away by a man who wants to control her. Left with nothing, Lee disguises herself as a boy and takes to the trail across the country. Gold was discovered in California, and where else could such a magical girl find herself, find safety?

Walk on Earth a Stranger, the first book in this new trilogy, introduces—as only Rae Carson can—a strong heroine, a perilous road, a fantastical twist, and a slow-burning romance. Includes a map and author's note on historical research.
My Stance:
So Rae Carson is back at it with a new novel, and this one from some of the ARC reviews I have seen, sounds downright amazing. Is this book a syfy sort of series, or is it going to be more historical fiction? I hope it's better as a mix, I would love the twist. However I will say this, having the special ability to find gold, is by far one of the most strange abilities I have heard of in a while. Not that it's bad or anything, but it's just one of those weird, sort of how do you fight crime, protect, or whatnot. It's just odd.

This is another one of my top picks for the year, I honestly can't wait to see just how Carson takes this book to new levels. Carson does a great job with fantasy in the past. However, this book is just far different, I have faith in Carson and I believe she will do a fantastic job and won't let me down.