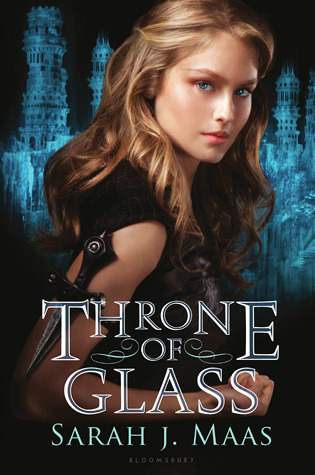 Title:
Throne of Glass
Author:
Sarah J. Maas
Series:
#1 -
Throne of Glass
Format:
Hardcover
Release Date:
August 7th, 2012
My Rating:
5.0 out of 5.0
After serving out a year of hard labor in the salt mines of Endovier for her crimes, 18-year-old assassin Celaena Sardothien is dragged before the Crown Prince. Prince Dorian offers her her freedom on one condition: she must act as his champion in a competition to find a new royal assassin.

Her opponents are men-thieves and assassins and warriors from across the empire, each sponsored by a member of the king's council. If she beats her opponents in a series of eliminations, she'll serve the kingdom for three years and then be granted her freedom. Celaena finds her training sessions with the captain of the guard, Westfall, challenging and exhilarating. But she's bored stiff by court life. Things get a little more interesting when the prince starts to show interest in her... but it's the gruff Captain Westfall who seems to understand her best.

Then one of the other contestants turns up dead... quickly followed by another. Can Celaena figure out who the killer is before she becomes a victim? As the young assassin investigates, her search leads her to discover a greater destiny than she could possibly have imagined.
My Review:
Alright, alright. I read this book and I understand what all the hype and all the talk was about. This book was just downright amazing, the worldbuilding, the plot, the characters, everything just belonged together and Maas put herself on the map in a big way with this book. Calaena was just spectacular, she's that sort of cocky girl that yeah it does great on you, but you realize as the story goes on that she's just as human as anyone one else in the novel. She's an assassin, and a good one at that. Being trained specifically for the trait, and frankly I don't get the whole play on assassins lately, but this is the best example of how to do it right.

Calaena is from what I understand is a malnourished 18-year-old when she is pulled from the salt mines of Endovier, and how she is even considered as assassin is beyond my imagination. She talks like her health and how some of the guards beat on her, just took a toll on her body. Through the beginning of the book she actually is working on building her muscle and body image back up. So I just don't understand how her condition made her even eligible to be part of the contest. Either way the prince seems to have taken an interest in her.

This is the part of the book that just ground on my nerves. Prince Dorian and Captain Westfall both take interest in her pretty quick. So here we go with a love triangle again. I would understand the theory that she is an assassin so she is just playing on them to get further and has another agenda, but she generally seems interested in both. Gah, I hate novels where girls can't just make up their mind. However you get the feeling that she's got a choice deep inside of her somewhere.

Dorian, the prince of Endovier, who while being interested and worried about Calaena, there is a sort of heir to his ways. I got the feeling like he expected to get what he wants, and didn't seem to take well to rejection either. Dorian is always fighting for his father's approval and sponsoring Calaena, he gives her the choice to start her life over. It's not really a choice, but he is the one that seems to go against his father and bring the best assassin out of a cage. Dorian's father and mother seem completely off the wall. His mother is so bent on finding him a good respectable noble wife that she doesn't even see the romance under her own nose, even if she would disapprove. Dorian's father is the same person who helped catch Calaena and for the most part wants to use her or needs a Champion to help do his dirty work. The king I wanted to see more of, but the other aspects of the story made up for the lack of the kings domineering presence.

Westfall, Calaena's trainer and captain of the kings military, is the one character I thought Calaena fell in line with the most. Their ideals and morals seems to come together, even if they didn't agree how to get a task done, they both agreed on the outcome. Their twisting relationship is what I thrived on in this book, but it also gave Westfall a great character depth, that I thought Dorian was lacking a bit. Further, the rest of the plot is what helped drive Calaena toward Westfall, and the dark underlying that slowly kills off the contestants.

The contest is what made the book. While it wasn't exactly a duel the entire way, there was enough obstacles or tasks to eliminate the others that you know it was leading up to something big. Than with the killings and trying to figure out who was trying to take out the contestants. The slight mystery lead me on a wild goose chase and frankly I didn't find out till the end, it was great. The book needed that dynamic otherwise it would have been bland. When everything was laid on the table and the book moved, there just wasn't a way I was going to put it down.

The hype behind the book, doesn't do it justice. Please, just read the book. If you haven't and are having doubts, stop. Maas does a great job with the characters, and even the supporting ones. It's the sign that this book is going to captivate me and frankly I am dying to marathon the rest of the series to get caught up. I should put that on my schedule to do soon.