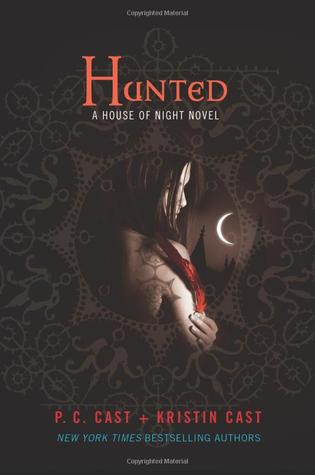 Title:
Hunted
Author:
P.C. Cast
and
Kristin Cast
Series:
#5 -
House of Night
Format:
Hardcover
Release Date:
March 10th, 2009
My Rating:
3.0 out of 5.0
What if the hottest guy in the world was hiding a nameless evil, and all he wanted was you? At the start of this heart-pounding new installment of the bestselling House of Night series, Zoey's friends have her back again and Stevie Rae and the red fledglings aren't Neferet's secrets any longer. But an unexpected danger has emerged. Neferet guards her powerful new consort, Kalona, and no one at the House of Night seems to understand the threat he poses. Kalona looks gorgeous, and he has the House of Night under his spell. A past life holds the key to breaking his rapidly spreading influence, but what if this past life shows Zoey secrets she doesn't want to hear and truths she can't face?
My Review:
So I made it to book five, and frankly I am still sort of stumped how I made it so far. Zoey is still utterly annoying and the fact that she's still the entitled little girl emotionally and yet the world against doesn't seem to revolve around her. Her friends still somehow manage to be her friends, and stick together, but there is a newcomer to the show.

Kalona, the ancient vampire, a spawn of Neferet is now after Zoey and possibly her next romance. What I don't seem to understand if Kalona supposedly makes all the girls/women around him so turned on to him alone, why isn't Neferet? Or is she, and I just failed to pick it up? Kalona actually could've made the story interesting, but the lack of depth and single mindedness just turned me off. There was so much potential in this character and yet again, with another character, it is squandered away. Kalona is supposed to be this badass, sexy vampire, however he's more of an overblown, glittery bean bag chair.

The one good part of this book is that Stevie Rae actually picks up some of the letdown of a book. She is the main reason I continued with the series, but I am not sure it was worth keeping going. The plot of this book was again, pretty simple and there wasn't much to it and the dynamic and depth just isn't there. To be honest, the only reason I am going to continue this is just the completionist in me. I honestly wouldn't really suggest this to a mature audience at all.