Waiting On Wednesday is a weekly event, hosted over at Breaking The Spine, that spotlights upcoming releases that we're eagerly anticipating.
See something you like here?
Click the book title to add it to your Goodreads TBR List!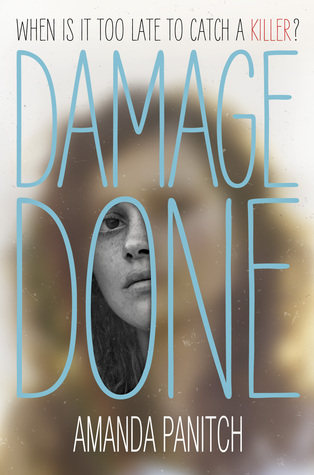 Title:
Damage Done
Author:
Amanda Panitch
Format:
Hardcover
Release Date:
July 21st, 2015
"Exceedingly clever and surprisingly unsettling, Damage Done is an unforgettable read." --Melissa Marr, New York Times bestselling author of Made for You

"In her incredible debut novel, Amanda Panitch leaves you on the edge of your seat. Prepare to be stunned. Prepare to be torn apart." --Roxane Gay, New York Times bestselling author of Bad Feminist

"A brilliant thriller. Gillian Flynn for the YA set." --Amy Christine Parker, author of Gated

22 minutes separate Julia Vann's before and after.

Before: Julia had a twin brother, a boyfriend, and a best friend.

After: She has a new identity, a new hometown, and memories of those twenty-two minutes that refuse to come into focus. At least, that's what she tells the police.

Now that she's Lucy Black, she's able to begin again. She's even getting used to the empty bedroom where her brother should be. And her fresh start has attracted the attention of one of the hottest guys in school, a boy who will do anything to protect her. But when someone much more dangerous also takes notice, Lucy's forced to confront the dark secrets she thought were safely left behind.

One thing is clear: The damage done can never be erased. It's only just beginning. . . .
My Stance:
This book is something new, something that reminds me of a past book I've read. Lucy remembers a past life she frankly shouldn't have. The world is a secret, and the life she is living is as well. There is something about how she is living and how almost empty is is, that brings the question. What begs the question, is the loss and emptiness, was it worth it? I find that the whole big secret isn't worth it, only fuels the anger and rage that the society feels, which in book land, never ends well.

What confuses me the most about this book, is the two boys. There the perfect one and the bad boy, it's so cliche and so overdone that I wish an author, would at least try to come up with something new. Personally the whole love triangle thing doesn't work for me, and I hate girls who can't pick just one. I find books that i ma looking forward to are the stories where there's a single choice, a single hope and joy. It's that idea, and that sort of style that I feel hopeful for.