Insurgent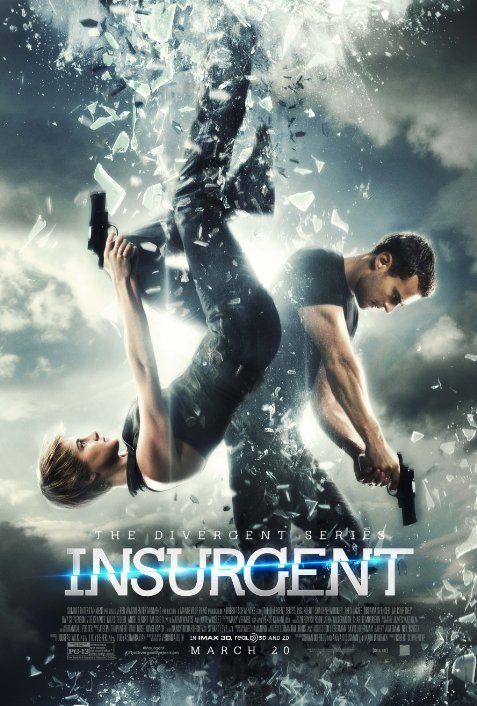 Title:
Insurgent
Director:
Robert Schwentke
Author:
Veronica Roth
Release Date:
March 20, 2015
Rating: 8.5
Out of 10
Beatrice Prior must confront her inner demons and continue her fight against a powerful alliance which threatens to tear her society apart with the help from others on her side.
From the Book:
One choice can transform you-- or it can destroy you. But every choice has consequences, and as unrest surges in the factions all around her, Tris Prior must continue trying to save those she loves--and herself--while grappling with haunting questions of grief and forgiveness, identity and loyalty, politics and love.

Tris's initiation day should have been marked by celebration and victory with her chosen faction; instead, the day ended with unspeakable horrors. War now looms as conflict between the factions and their ideologies grows. And in times of war, sides must be chosen, secrets will emerge, and choices will become even more irrevocable--and even more powerful. Transformed by her own decisions but also by haunting grief and guilt, radical new discoveries, and shifting relationships, Tris must fully embrace her Divergence, even if she does not know what she may lose by doing so.
My Review:
Now I was shocked at this movie. If you were to tell me that taking liberties with the movie where the book seemed to drag on and dangle the ending plot twist would actually succeed, I would have laughed at you and more or less disregarded your entire argument before it even began. Than to tell you the movie cut one big component of Allegiant and the rising war, and a big influence to Tris in this movie as well, out almost entirely, I again would have been insulted or thought of blasphemy to the series. However, I have to give the story writers for this movie an applause, a bow, and frankly my salute to proving me utterly wrong.

Now for everyone who knows me and read my Divergent movie review knows I hated Theo James for Four (Tobias) in the first movie. However, in this one he fits completely. There is this romantic side to him that wasn't there, but he remained strong and dependable as well. There were parts of the movie that showed just how much he grew, and the choices that weigh on his mind. This Tobias is what I envisioned in the first movie and I love how it all got brought back around and he works to support and comfort Tris. This needed to happen in the first movie; great job on the transition.

Tris is Tris. We already know she's the poster girl for Divergents, and what I didn't get was the need to hammer that home for her. Foreshadowing the whole Abnegation thing over and over seemed a bit much, I got it you ruined the plot twist. However, I did enjoy how emotional she is in this movie. Shailene Woodley nailed her emotional scenes, and maybe a bit too much. I honestly bought her representation, however I didn't see her anger or desire for change. She just seemed to nonchalantly want to kill Jeanine, which didn't seem at all hatred or anger filled, it was more of a, "lets kill her because we can."

The rest of the supporting characters Caleb, Christina, and even Peter just seemed to fall wayside. Peter and Caleb never really made a scene until the end. I wish there was more of them. Caleb watching his sister suffer and go through what she did, was great and made me want more, but it was too late to crave more. Peter's betrayal was a bit lackluster, how he flip-flops sides was more of a joke and easily bought than some top-secret spy mission. However they did help boost Tris to the limelight, in what can best be described as a "dystopian movie featuring: Tris and Four."

Now the movie is fast past, it drives the story along and cuts out nearly every useless dialogue it can to make the movie move. It was done well, and the liberties they took were flawless. I love how Marcus made one scene and left, however I will admit I hope there's an extended edition with some more his dialogue with Tris. The best part is the ending and how the graphics department seemed to take the reigns and just go crazy with what is there. It took that twist and seemed to just run with the rest, I just wish some of it could have been cut down to give a little more build-up to Allegiant.

I am curious how the following Allegiant will fair, with what they left with the movie. There is an endless possibility and figuring there are two movies, I hope the next isn't some drawn out dialogue and introduction. I am hoping for a rebirth of Divergent and building up to a grand finale.

So in the end I am happy with what they did, it's not the book, and I may eat my own words here, I am more partial to this version of the story than the books. I am happy they took the liberties they did, because it told a better story that was seamless and well thought through. I wish they could have done this with the first movie, but I will admit this surprised me. It wasn't what I had thought of, and when I went to see it, I had heard that the last portion was different and helped define the movie. It not only gave the movie life, but set it apart from other young adult or dystopian movies. Congratulations, on succeed on a great risk with the liberties and pulling off a fantastic interpretation of the movie.