Waiting On Wednesday is a weekly event, hosted over at Breaking The Spine, that spotlights upcoming releases that we're eagerly anticipating.
See something you like here?
Click the book title to add it to your Goodreads TBR List!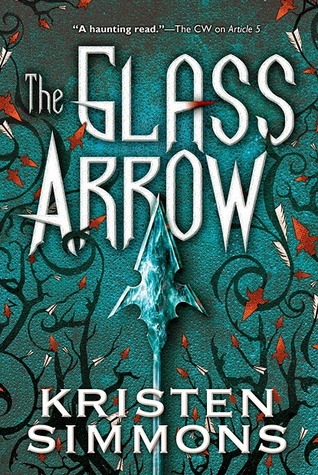 Title:
The Glass Arrow
Author:
Kristen Simmons
Format:
Hardcover
Release Date:
February 10th, 2015
The Handmaid's Tale meets Blood Red Road in Glass Arrow, the story of Aya, who lives with a small group of women on the run from the men who hunt them, men who want to auction off breeding rights to the highest bidder.

In a world where females are scarce and are hunted, then bought and sold at market for their breeding rights, 15-year old Aya has learned how to hide. With a ragtag bunch of other women and girls, she has successfully avoided capture and eked out a nomadic but free existence in the mountains. But when Aya's luck runs out and she's caught by a group of businessmen on a hunting expedition, fighting to survive takes on a whole new meaning.
My Stance:
The Glass Arrow presents Kristen Simmons on a new style of book. We go from a style of full blown realistic dystopian to a more fantasy dystopian. The two were somewhat similar in their whole premise of the dystopian (both focusing around women's lack of rights or prejudice). I find that the two are very different. This seems to have that whole fantasy vibe, and that's kind of confusing. Is this supposed to have a realistic touch to it, or am I on the right track?

Now I would like to touch on the whole, "women sold for breeding rights" premise. I understand that this is more of the whole sexual prejudice topic that's been in the news/twitter lately, but it bothers me. I find that the topic is so overdone or that the girls in those type of stories are weak and just boring. I hope that's not the case here, I want this book to do well. It's not that I think the premise is bad, it's just got a bad reputation from me, and I just don't want a repeat of that.

Kristen Simmons's Article 5 was a spectacular read and I have been looking for this book for a while. There is just something about her writing style that's superb, even if I don't give the books perfect ratings. She is one of the more underrated authors out there, I just hope other people pay more attention to her.