The DUFF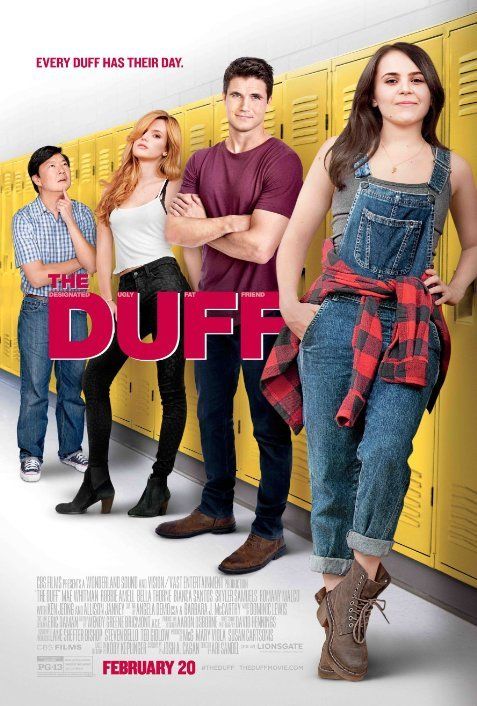 Title:
The DUFF
Director:
Ari Sandel
Author:
Kody Keplinger
Release Date:
February 20th, 2015
Rating: 7.0
Out of 10
A high school senior instigates a social pecking order revolution after finding out that she has been labeled the DUFF (Designated Ugly Fat Friend) to her prettier more popular friends.
From the Book:
Seventeen-year-old Bianca Piper is cynical and loyal, and she doesn't think she's the prettiest of her friends by a long shot. She's also way too smart to fall for the charms of man-slut and slimy school hottie Wesley Rush. In fact, Bianca hates him. And when he nicknames her "the Duff," she throws her Coke in his face.

But things aren't so great at home right now, and Bianca is desperate for a distraction. She ends up kissing Wesley. Worse, she likes it. Eager for escape, Bianca throws herself into a closeted enemies-with-benefits relationship with him.

Until it all goes horribly awry. It turns out Wesley isn't such a bad listener, and his life is pretty screwed up, too. Suddenly Bianca realizes with absolute horror that she's falling for the guy she thought she hated more than anyone.
My Review:
I was rather shocked at this movie, there was parts of this movie that I enjoyed and parts that just were ridiculous. The acting was pretty mediocre, I mean c'mon it's a teen flick, the actors in this haven't really had the vast experience that some of the more adult movies have. However, that being said it wasn't awful, and I found it rather enjoyable. The reason this movie is getting such a high rating, with my warning on the acting, was some bits in how the movie was written. Granted it wasn't written perfectly, but the second part was done well. There were ups and downs, but it was enjoyable.

Mae Whitman as Bianca and Robbie Amell as Wesley were actually cast pretty well. I liked them in the roles. Mae had this unique, quirky attitude and it just fit into her character. However Robbie plays the part right, but I believe it was written a bit wrong. He didn't really seem to be quirky or interesting at all until Bianca came into the picture. I just thought he was written a bit wrong, or maybe I am a bit too mature for this movie.

Now about the writing, the first half with all the social media references and how Facebook seemed to pay for the first part of the movie. It was just annoying, teens get the whole bit of social media, but it goes deeper. The CG aspects weren't all that great, the whole social media imitation wasn't appealing. I found that whoever did the first half got fired, and the second half when a deeper message started to make an appearance a new writer got hired and turned it around. Because it was night and day. I loved the message of this movie.

I haven't read the book, so I don't know what the book's message is. The movies focused on the DUFF label and labels in general. Every high school has labels, and ignoring the fact that kids use them is just ignorance. What I didn't like though is they had an ignorant principle and only one teacher that seemed to have a brain. Where are the other teachers? There was one but it was a laughably bad representation. The ending speech from Bianca was great, I love the whole Label vs Self speech, and that just made the movie for me.

What brought this movie close to home, we have a nearby town whose High School has suffered three suicides recently. I am not sure what the problem is, but this movie just seemed to speak to that. There is a big reference to cyber bullying and what a problem it is. Bullying is a problem, always has been, but cyber-bullying just adds a new layer to it. Bianca handles it pretty well, and there are times I don't understand her sometimes, but she she bounced back from it. I hope more people can look at Bianca and take something from the character representation.

I know I said that a lot of the writing was done well, it wasn't until the second half that I really fell in love with the movie. The ending was rather predictable, but it was a cute and great ending. The message in this movie was rather good, and that is what made the movie for me. It was cute, and while I may be a bit too mature for this movie, it was great to bring me back to the High School days. Sometimes I say that I don't miss all the high school drama, this movie had some, but it was done well. It wasn't that obnoxious annoying drama, but more of a self-identity issue. It was done well, but not the best executed movie I've seen so far.