Flashback Friday is a weekly event, hosted here, that highlights a past release that we're dying to get our hands on...
See something you like here?
Click the book title to add it to your Goodreads TBR List!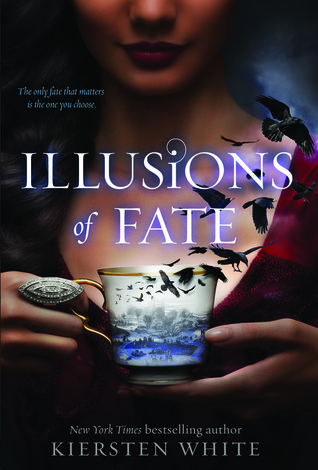 Downton Abbey meets Cassandra Clare in this lush, romantic fantasy from New York Times bestselling author Kiersten White.

"I did my best to keep you from crossing paths with this world. And I shall do my best to protect you now that you have."

Jessamin has been an outcast since she moved from her island home of Melei to the dreary country of Albion. Everything changes when she meets Finn, a gorgeous, enigmatic young lord who introduces her to the secret world of Albion's nobility, a world that has everything Jessamin doesn't—power, money, status…and magic. But Finn has secrets of his own, dangerous secrets that the vicious Lord Downpike will do anything to possess. Unless Jessamin, armed only with her wits and her determination, can stop him.

Kiersten White captured readers' hearts with her New York Times bestselling Paranormalcy trilogy and its effortless mix of magic and real-world teenage humor. She returns to that winning combination of wit, charm, and enchantment in Illusions of Fate, a sparkling and romantic new novel perfect for fans of Cassandra Clare, The Madman's Daughter, and Libba Bray.
My Stance:
I wanted to give Kiersten White another chance, and I have heard such great things about this novel. Illusions of Fate is one of those that I feel would be a great chance to try and rekindle something more for White. The last novel I read was The Chaos of Stars and it was one of those that while not being a perfect it was enjoyable. However there is a sort of beauty in this novel, and I don't know exactly where it comes from.

I have heard of Downton Abbey, I just haven't seen any of the episodes, and through it's huge sense of appeal I just haven't had the notion or pleasure to see any. However, this book seems to take a lowly child, Jessamin, and gives her a man who is mysterious and opens a whole different world to her. There is a sort of pleasure in seeing that magic plays a part in the novel, but further it has this sort of medieval, old school time that I have found to enjoy as of lately.

What I don't understand is if you have practically nothing, and than a person opens a whole knew world to her. It just sends red flags, if it was me I would be questioning, "Why me?" Maybe Jessamin does and that's the point of the novel. Than we have Finn the Young Lord, I wish there was more insight to who he is. Not necessarily pertaining to the story, but what is the the Lord over, all of Albion? I am curious and the questions and issues I arise will be answered because of the story telling. I just hope this book beats The Chaos of Stars.