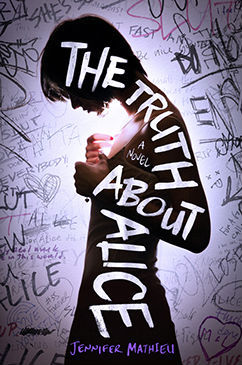 Title:
The Truth About Alice
Author:
Jennifer Mathieu
Format:
Hardcover
Release Date:
June 3rd, 2014
My Rating:
3.5 out of 5.0
Everyone knows Alice slept with two guys at one party.

But did you know Alice was sexting Brandon when he crashed his car?

It's true. Ask ANYBODY.

Rumor has it that Alice Franklin is a slut. It's written all over the bathroom stall at Healy High for everyone to see. And after star quarterback Brandon Fitzsimmons dies in a car accident, the rumors start to spiral out of control.

In this remarkable debut novel, four Healy High students—the girl who has the infamous party, the car accident survivor, the former best friend, and the boy next door—tell all they know.

But exactly what is the truth about Alice? In the end there's only one person to ask: Alice herself.
My Review:
The Truth About Alice is one of the more depressing books. It's entirely about the cliques everyone knows and has been part of in HIgh school. I always thought the book would take Alice's perspective but the message is entirely different. I never really understood what was going on, what the story was trying to pass on but it wasn't until the end that I think I finally understood what the message was. Further, there is something beyond just the story, the characters are done so well. It's hard to pinpoint which one I felt sorry for most of all.

Alice is a Slut. The book takes that message and runs with it. Alice Franklin is the popular girl, but its more on her looks than just about her personality. She's becoming friends with Brandon, the most handsome and popular guy at school. When he's killed in a car accident, rumors start compounding against Alice. However those close to her never really stop and question her about the rumors, or get her side of the whole ordeal.

The book is told from multiple perspectives gives a great detailed look at the cliques, but also gives Alice definition. I don't normally enjoy books with so many perspectives, two just seems to be the max without spreading them too thin. I found that some of them were just hard to follow, but it was more of trying to capture the character well. You do get used to the style of writing after a while. This book does the multiple perspectives very well, I loved her take on this and the different cliques.

Mathieu breaks down those cliques and dives into them and how people perceive those stereotypes. I love how Mathieu questions every one of those stereotypes. It makes you question those, and for me it was more about how the people got those stereotype. The Queen, The Jock, The Nerd, The Virgin, and The Slut each have their own take and in this novel no one is safe from light. I love the take here, and frankly it deserves a lot more respect than what it got.

What makes this book great is the cliques, how Mathieu broke down every stereotype. It's that part that the books makes and defines itself. Its the growth of a few characters, and how the writing made them all jump alive. This book is just so beautifully written, and begs to be read. I honestly can say that though I did put the book down a few times, it probably one of the hardest books to put down and tend to life. I sincerely wish I could say I finished it in one sitting, it deserves that.