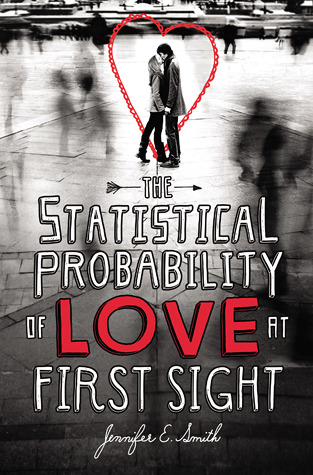 Title:
The Statistical Probability of Love at First Sight
Author:
Jennifer E. Smith
Format:
Hardcover
Release Date:
January 2nd, 2012
My Rating:
3.0 out of 5.0
Four minutes changes everything. Hadley Sullivan 17 misses her flight at JFK airport, is late to her father's second wedding in London with never-met stepmother. Hadley meets the perfect boy. Oliver is British, sits in her row. A long night on the plane passes in a blink, but the two lose track in arrival chaos. Can fate bring them together again?
My Review:
This book was cute, and while it wasn't what I thought it would be AT ALL, it touched my heart with how cute it was. For a short read, I will say the book was worth the small amount of effort that it took to get through it. I was hoping for a happily ever after ending with some hearts, stars, and horseshoes, which happened to a bit of degree. I also never thought the book would take a different turn than a simple romantic one, but the twist it took was done well.

Hadley is like any normal seventeen year old. However, she has serious daddy issues. Which I guess in her position I understand, he did pretty much bail on his wife on a trip to England. What I never really understood though is the small trips that Hadley took after the divorce to see her father on vacation, she never brought it up, never talked about it than. It was like she felt betrayed and made at him for leaving her mother for some other woman she knew nothing about. I understand that there's underlying family issues, but they almost seem to have been avoided so much in the past.

The book picks up as Hadley is trying to switch flights since she missed hers, and in doing so manages to make her dad mad or nervous (hard to really tell). The flight she needs to get to England, and be part of her fathers and step-mothers wedding, lands her next to Oliver. I love how Oliver seems to be distant and almost mysterious when Hadley tries to ask questions pertaining to why he missed his flight as well. Which begs to question how many times to they have to come in contact with each other for coincidences become stalking.

The two connect and it's like they were meant to be, and that brings me to my first issue with the book. I stated it just a few moments ago, at what point do the coincidences be too much? It was cute that they happened to miss the same flight, and managed to work around getting to sit next to each other. But after that when the coincidences happened to keep showing up, it was just a bit much and was almost like the author was asking too much of the reader to buy into. I didn't give up, mainly because I had hope for the happy ending.

Now Oliver is one of those guys that's outgoing and funny, but for some reason I had this good-looking nerdy image picture of him constantly. I actually enjoyed him, and okay he did lash out at Hadley at one point, but at the same time given the circumstances, it wasn't entirely expected. Yeah I think he was wrong, but at the same time there is some perspective he conveys. The reaction from Hadley and how it entirely brings her around to what needs to happen makes the story.

I would love to talk more about the book, but frankly if I did I would be giving away some pretty good plot points. I don't like to spoil certain parts of the books, and that's why I have to say this book I would probably read again, and maybe pass down. It's not one of my favorite, but the message in the book was great. Smith before seemed to let me down, but this book more or less renewed my believe in her style and story-telling, even if it's a tad-bit cute and cheesy. If you have a short moment between books, take the time and read this book; it's not the best, but it will make you feel warm and cozy afterwards.