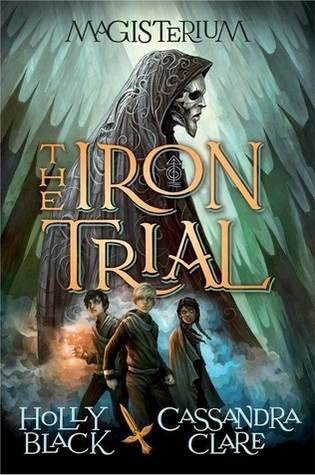 Title:
The Vanishing Season
Author:
Cassandra Clare
and
Holly Black
Series:
#1 -
Magisterium
Format:
Hardcover
Release Date:
September 9th, 2014
My Rating:
3.5 out of 5.0
Most kids would do anything to pass the Iron Trial.

Not Callum Hunt. He wants to fail.

All his life, Call has been warned by his father to stay away from magic. If he succeeds at the Iron Trial and is admitted into the Magisterium, he is sure it can only mean bad things for him.

So he tries his best to do his worst - and fails at failing.

Now the Magisterium awaits him. It's a place that's both sensational and sinister, with dark ties to his past and a twisty path to his future.

The Iron Trial is just the beginning, for the biggest test is still to come . . .
My Review:
The Iron Trial is the Middle School version of Harry Potter. I found this book to be rather good and a disappointment at the same time. I just hope the series doesn't continue for around 6-7 books as Cal grows up. I would like to see the book continue in it's own direction and not feel like it's trying to copy or appear like Harry Potter or etc. And when it came to the two authors, I just thought their own individual novels were almost better than what this was. I just expected more out of these two.

The main point of the whole novel, at least from what I gathered, was how Callum Hunt didn't want to be a Mage. To put it in perspective, everyone at a certain age, goes through a test to see if you are picked up to be trained as a mage. If you fail, you go home and back to a normal life; if you pass you go on to be trained by a small group of mages and go through the Iron Trial.

The characters, Callum, Aaron and Tamara, all seemed to work together really good. They were so simple and well done, what hurt was it all seemed so similar... Oh yea, HP again. What did I say before, do your own thing. Callum seemed to be the dimwit who wasn't trained at all, and of course Aaron and Tamara have been informed/trained as good as they could, coming from magical families. It was slightly different from HP, but it has some similarities to the old novel, that I find it just disappointing.

Now I want to touch on the whole magic bits in this novel. Earth, Fire, Wind and Water are your normal typical elements, and they are just usd over and over, I like the little twist with Void being in there as well. However the void seems to make things crazy or chaotic, and people born able to control Void are rare and extremely sought after. Another twist is that if you consume certain parts of the element, you can become stronger in that element. Who would eat earth, or a match, or blood (oxygen for air)? It's unique, but how it's described is just silly.

Now the plot of the whole bit is what brought this novel back around. The start is with Callum's father and describing part of an ongoing war with mages and a person known as The Enemy of Death, a powerful void mage. Sarah Hunt and their child are present for what would be a massacre, and Alastair is left to find them with a cryptic message of "Kill the Child" which more or less foreshadows the rest of the book. The book then takes off with Callum as he enters the trial and then into The Iron Trial. It is a pretty standard, follow the dotted line till the end, where finally in the last few chapters, the book opens wide up. I loved the twist at the end, and brings a great dynamic to the series, I just hope they stick with it.

The Iron Trial has it's fair share of HP comparisons, and relates a lot to it, but I feel the audience target is a younger age group than what HP was at the time. I found the characters pretty standard, and was hoping for a bit more dynamic. At times it just seemed like they were trying to hard with the amount of characters they were putting in the novel, that I think it hurt them instead of helping. The ending is what I feel saved this book from completely being dull and boring. It's worth the read, but remember there are similarities and it may upset you, but I feel the novel is worth the time and effort to read the first novel.