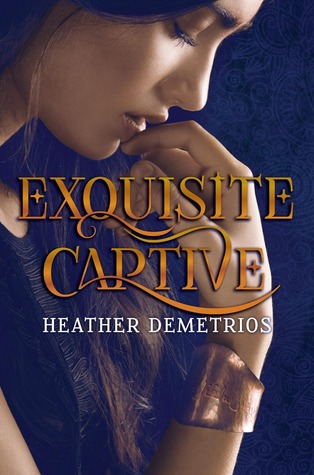 Title:
Exquisite Captive
Author:
Heather Demetrios
Series:
#1 -
Dark Caravan Cycle
Format:
Hardcover
Release Date:
October 7th, 2014
My Rating:
4.0 out of 5.0
Forced to obey her master.
Compelled to help her enemy.
Determined to free herself.

Nalia is a jinni of tremendous ancient power, the only survivor of a coup that killed nearly everyone she loved. Stuffed into a bottle and sold by a slave trader, she's now in hiding on the dark caravan, the lucrative jinni slave trade between Arjinna and Earth, where jinn are forced to grant wishes and obey their human masters' every command. She'd give almost anything to be free of the golden shackles that bind her to Malek, her handsome, cruel master, and his lavish Hollywood lifestyle.

Enter Raif, the enigmatic leader of Arjinna's revolution and Nalia's sworn enemy. He promises to free Nalia from her master so that she can return to her ravaged homeland and free her imprisoned brother—all for an unbearably high price. Nalia's not sure she can trust him, but Raif's her only hope of escape. With her enemies on the hunt, Earth has become more perilous than ever for Nalia. There's just one catch: for Raif's unbinding magic to work, Nalia must gain possession of her bottle…and convince the dangerously persuasive Malek that she truly loves him. Battling a dark past and harboring a terrible secret, Nalia soon realizes her freedom may come at a price too terrible to pay: but how far is she willing to go for it?

Inspired by Arabian Nights, EXQUISITE CAPTIVE brings to life a deliciously seductive world where a wish can be a curse and shadows are sometimes safer than the light.
My Review:
Heather Demetrios came out swinging with this book and while it didn't fall flat on its face, it stumbled through the first read. While I thought the book was a bit touchy here and there, there was a part of me that found the book more like a reversal of Aladdin than anything else. The book was sweet and while there was a supposed love triangle, it was more of disjointed love affair and survival that bound some of it together. The book surprised me for something I randomly picked up at Barnes & Noble, and I am glad that I did.

I will say, I never thought I would be a fan of jinni or something that's just so far sci-fi and magical that it tends to stretch and redefine magic nearly every other page. Yet with Demetrios, there seemed to be a set boundary to the jinni and how the standards and practices they had. It was refreshing to have an author that knows that what they are creating on the page could and will have an endless power, yet they seem to rein them back into a culture or set standard. It brought relatability and understanding to such unique and diverse characters.

Nalia was just sweet and stubborn throughout the book. There is part of her that bleeds the heir of superiority from her background, in her actions, but she understands the fault in her past. Furthermore, she is sorry and feels guilty for the old jinni lifestyle and how wrong it was. I love how humble she is, she knows she could be queen but realistically all she wants is to save her little brother. Time and time against, Nalia reflects on the past and the old Arjinna world, the happy moments, but she's also knows that part of deserves the slave labor she's been sold into.

Malek was a character who I nearly hated throughout the book. He's one of those cunning sly characters that just slithers underneath everything and makes you question every little action. He's the owner of Nalia and tries at first to make Nalia obey him by force, that fails rather miserably. Yet, he changes suddenly seeming to fall in love with Nalia and want more from her than just some slave jinni. There is much more to Malek, than what Nalia can see and that's what bothered me the most. He was mysterious and almost fluidly changing with an almost multi-personality throughout the book. I wish he was a bit more stable in who he was and grounded.

Raif seemed to make up for everything though. The leader of the rebellion in Arjinna has come seeking the queen and in doing so finds much more than what he bargained for. The relationship that starts between Raif and Nalia is great, and while at first they constantly fight and bicker, it adds depth to their growing relationship. It's as if they never really planned on falling for each other, and when they did it was deep and hard. Their relationship went in great contrast to the relationship with Malek and Nalia and the two were constantly close and it's not hard to compare the two.

Now this book isn't nearly entirely romance, but a good part of it is. The magic and the culmination of the war between the Ghan Aisouri and Ifrit, which has been brooding for ages. This means that all the while Raif is trying to win Nalia's support and help in the coming rise against the Ifrit, an assassin is sent after Nalia. I loved how Demetrios put a ticking time bomb in the novel. It gives the book a specific timeline it needs to adhere to, but further it makes it so that no character is safe and free from harm. The few little fight scenes between the jinni give the depth and power of the jinni, but I never really anticipated the style of power they'd so.

Demetrios stole my breath away, and while it wasn't a perfect book, by that I mean flawless and gut wrenching, it did find a permanent place on my shelf. At times the book is a bit harder to get through, but I find the ending was well worth the effort. I didn't anticipate some of the twists, and I love how Demetrios handled the implied love triangle (NOTE: there isn't a love triangle in this book). It was one of those books that's so unique and pleasant that while you utterly hate some characters, you appreciate and understand the need to dislike them so in the book. Great work, and I look forward to more!