Waiting On Wednesday is a weekly event, hosted over at Breaking The Spine, that spotlights upcoming releases that we're eagerly anticipating.
See something you like here?
Click the book title to add it to your Goodreads TBR List!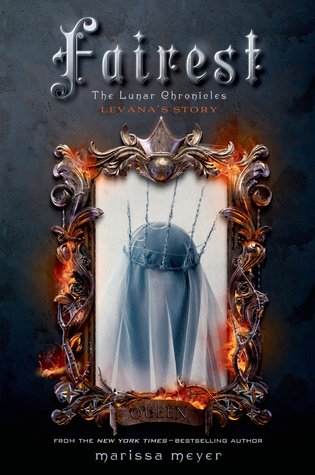 Title:
Fairest
Author:
Marissa Meyer
Format:
Hardcover
Release Date:
January 27th, 2015
In this stunning bridge book between Cress and Winter in the bestselling Lunar Chronicles, Queen Levana's story is finally told.

Mirror, mirror on the wall,
Who is the fairest of them all?

Fans of the Lunar Chronicles know Queen Levana as a ruler who uses her "glamour" to gain power. But long before she crossed paths with Cinder, Scarlet, and Cress, Levana lived a very different story – a story that has never been told . . . until now.

Marissa Meyer spins yet another unforgettable tale about love and war, deceit and death. This extraordinary book includes full-color art and an excerpt from Winter, the next book in the Lunar Chronicles series.
My Stance:
Fairest while not being my most impressive book this week or one that I'm exactly looking forward to, this book has my attention. First thing I should note that I have only read Cinder, and I really enjoyed it, Scarlet and Cress are on my shelf. It's not that I think the novels are bad or anything, it's more of I haven't gotten into the series as of yet. I plan on marathoning the books this year so, it's on my list.

After Cinder I loved the whole world and the presentation of the story. Marissa Meyer instantly became a fan of her novels. However this book seems to be a prequel, and while I am going to marathon them, I am not sure which order I should read the books in. I will probably wing it. I mean should I read Scarlet and then Cress, but where should Fairest fit in. I know the timeline apparently is Fairest - Cinder - Scarlet - Cress, but we'll see. I am not sure if I remember how Levana even is, now saying that, I may have to go back and do a Cinder reread or review. Either way this book is going to be a great addition to the series and I know Meyer won't let us down.