Waiting On Wednesday is a weekly event, hosted over at Breaking The Spine, that spotlights upcoming releases that we're eagerly anticipating.
See something you like here?
Click the book title to add it to your Goodreads TBR List!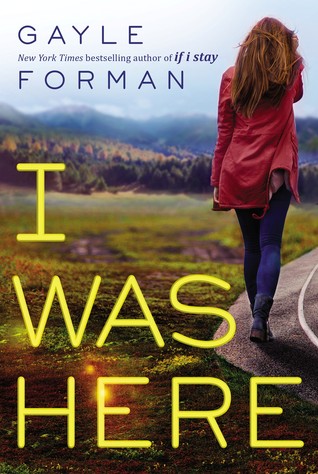 Title:
I Was Here
Author:
Gayle Forman
Format:
Hardcover
Release Date:
January 27th, 2015
Cody and Meg were inseparable.
Two peas in a pod.
Until . . . they weren't anymore.

When her best friend Meg drinks a bottle of industrial-strength cleaner alone in a motel room, Cody is understandably shocked and devastated. She and Meg shared everything—so how was there no warning? But when Cody travels to Meg's college town to pack up the belongings left behind, she discovers that there's a lot that Meg never told her. About her old roommates, the sort of people Cody never would have met in her dead-end small town in Washington. About Ben McAllister, the boy with a guitar and a sneer, who broke Meg's heart. And about an encrypted computer file that Cody can't open—until she does, and suddenly everything Cody thought she knew about her best friend's death gets thrown into question.

I Was Here is Gayle Forman at her finest, a taut, emotional, and ultimately redemptive story about redefining the meaning of family and finding a way to move forward even in the face of unspeakable loss.
My Stance:
I am looking to add this book to my Gayle Forman shrine shelf. I love nearly all of her work, she has a way of touching me and changing my outlook on life. It may not be world changing but it's small bits that tend to make an impact. This book though seems to take a completely different turn. Lately I have found myself reading a lot of suicide novels, and the impact it has on the characters around them. I find that in this novel its the best friend that is left to pick up the pieces where the one left off. I find that to be a heart-wrenching experience and the emotional toll it must have on Cody.

What I find pretty good about this novel is that the story seems layered. It's not Meg drank a bottle of cleaner and committed suicide, but there is everything leading up to the death and why. Cody not only has to go through the emotional rollercoaster that her friend died, but going to college and trying to pick up the affects, leads to an even more emotional ride. I can't imagine finding out everything and what Cody was hiding, especially if it was your best friend and you might have been able to help them. This book is going to be packed full of emotions, and knowing Gayle, it won't let me down at all.