Waiting On Wednesday is a weekly event, hosted over at Breaking The Spine, that spotlights upcoming releases that we're eagerly anticipating.
See something you like here?
Click the book title to add it to your Goodreads TBR List!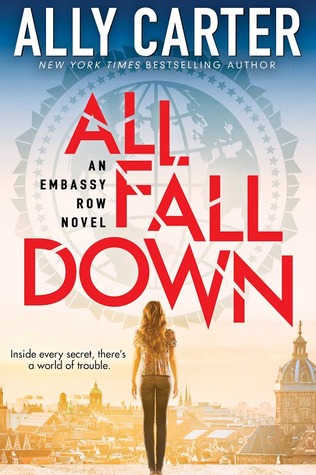 Title:
All Fall Down
Author:
Ally Carter
Format:
Hardcover
Release Date:
January 27th, 2015
A new series of global proportions -- from master of intrigue, NEW YORK TIMES bestselling author Ally Carter.

This exciting new series from NEW YORK TIMES bestselling author Ally Carter focuses on Grace, who can best be described as a daredevil, an Army brat, and a rebel. She is also the only granddaughter of perhaps the most powerful ambassador in the world, and Grace has spent every summer of her childhood running across the roofs of Embassy Row.

Now, at age sixteen, she's come back to stay--in order to solve the mystery of her mother's death. In the process, she uncovers an international conspiracy of unsettling proportions, and must choose her friends and watch her foes carefully if she and the world are to be saved.
My Stance:
Now I don't know why I am attracted to this book at all, frankly reading the synopsis has me a bit skeptical, because we know almost nothing about the plot of the story other than Grace is solving her mothers murder/death. The rest of the book just seems to be thrown up in the air and we're left to guess. I am not sure that's the best way to really handle a synopsis, and give insight into what the book is about overall. I really wish there was more detail about the story and what happened to her mother.

I will say this though about the synopsis, the detail about Grace was by far worth the lack of plot. However there are holes in that as well. The big issue I see is, the description we get says one thing but the plot and where I see the book head (a mystery of sorts) tells that she needs detective or some sort of police training. There doesn't appear to be any overlap, but I may not be looking in the right spots or the Army may be a bit different.

Now I may sound like I am talking down the book that I'm not sure if it'll be good or not. I don't know whether it'll be good or not, but I am curious on taking the risk on this book. It's one of those books that I see potential and could lead to a good series. I will keep it on my watch list, and maybe do a bit more research as the novel comes out. This book's setup is vague and does leave me guessing, I just hope it has the right direction for the readers. I have faith!