Waiting On Wednesday is a weekly event, hosted over at Breaking The Spine, that spotlights upcoming releases that we're eagerly anticipating.
See something you like here?
Click the book title to add it to your Goodreads TBR List!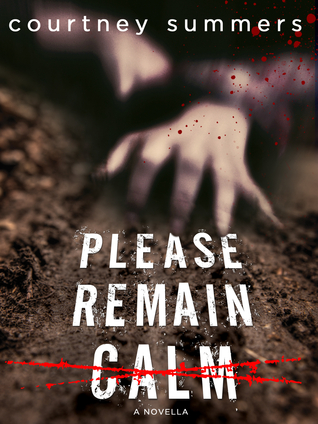 Title:
Please Remain Calm
Author:
Courtney Summers
Format:
E-Book
Release Date:
January 20th, 2015
In this gripping sequel to THIS IS NOT A TEST, Rhys and Sloane are headed for a safe haven when they get separated along the way. Rhys is determined to reunite with Sloane until he discovers people who might need him more--people who offer him the closest he'll get to everything he's lost, if they can just hold on long enough.

Rhys thinks he has what it takes to survive and find the girl he lost, but in a world overrun by the dead, there are no guarantees and the next leg of his journey will test him in unimaginable ways ...
My Stance:
Firstly Courtney Summers is a beast, I love her books and while this book is the sequel to a magnificent 5.0 This is a Not a Test I can't control myself. There has been a lot of talk and asking for this book. Figuring out what happens to Rhys and Sloane after the first book, I just understood that it more than likely wouldn't happen. A lot of authors are so busy with writing future novels, that when fans ask for sequel, chances are that time is already done and gone. However, I have to say I am happy that Courtney Summers comes back and did this novel.

I kind of figured the plot point in this book, I mean it's obvious if you are thinking about what a sequel would be. However, the whole bit of what would you do in a world ravaged by zombies, and you got separated from the one you loved (just fell in love with or thought you did). Summers tackles the case of humanity of love vs. humanity. I mean you can tell that Rhys cares for Sloane in the first book, and when they get separated it must rip his hard into pieces. Now Rhys finds a group that offers life and a possibility at more, but its at the cost of Sloane and his heart almost. What do you choose, and I love how the book takes on the whole emotional vibe from the get go. I anxiously await this e-novella.