Waiting On Wednesday is a weekly event, hosted over at Breaking The Spine, that spotlights upcoming releases that we're eagerly anticipating.
See something you like here?
Click the book title to add it to your Goodreads TBR List!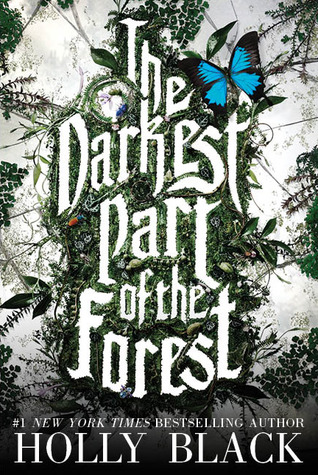 Title:
The Darkest Part of the Forest
Author:
Holly Black
Format:
Hardcover
Release Date:
January 13th, 2015
Children can have a cruel, absolute sense of justice. Children can kill a monster and feel quite proud of themselves. A girl can look at her brother and believe they're destined to be a knight and a bard who battle evil. She can believe she's found the thing she's been made for.

Hazel lives with her brother, Ben, in the strange town of Fairfold where humans and fae exist side by side. The faeries' seemingly harmless magic attracts tourists, but Hazel knows how dangerous they can be, and she knows how to stop them. Or she did, once.

At the center of it all, there is a glass coffin in the woods. It rests right on the ground and in it sleeps a boy with horns on his head and ears as pointed as knives. Hazel and Ben were both in love with him as children. The boy has slept there for generations, never waking.

Until one day, he does…

As the world turns upside down, Hazel tries to remember her years pretending to be a knight. But swept up in new love, shifting loyalties, and the fresh sting of betrayal, will it be enough?
My Stance:
Holly Black has been on my list and while there are some books that don't live up to the higher standards or what I tend to expect, I am looking forward to this one. What I don't understand though is what the faeries do in normal everyday life. I mean what added bonus or service do they provide? I love the idea and what the premise is, but at the same time I am wondering what the purpose of the boy in the woods who was asleep for what seems their entire childhood. It's kinda of easy to assume he would be the faerie king or something similar, but he could play an important part in some other aspect of the book. It just doesn't make great logical sense, but I am reading the synopsis only.

I want to dive into this book a little further because frankly there are two old fairy tales that this book reminds me of. First is Hansel and Gretel and Second would be Snow White. The reason for Hansel and Gretel is that both Hazel and Ben are siblings but the story references the two of them doing battle. However, Snow White comes with the boy asleep in the woods, until he randomly awakens. I believe that Hazel falls for him and she is the one who wakes him and than causes some sort of disturbance with the faeries. It sounds great, and I am expecting this book to be pretty good.