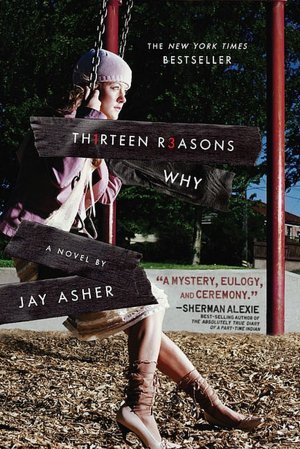 Title:
Thirteen Reasons Why
Author:
Jay Asher
Format:
Hardcover
Release Date:
October 18th, 2007
My Rating:
5.0 out of 5.0
Clay Jensen returns home from school to find a mysterious box with his name on it lying on his porch. Inside he discovers thirteen cassette tapes recorded by Hannah Baker, his classmate and crush who committed suicide two weeks earlier.

On tape, Hannah explains that there are thirteen reasons why she decided to end her life. Clay is one of them. If he listens, he'll find out how he made the list.

Through Hannah and Clay's dual narratives, debut author Jay Asher weaves an intricate and heartrending story of confusion and desperation that will deeply affect teen readers.
My Review:
I hunted and hunted for this book, I had heard so much about this book and how touching and fantastic it was. I didn't want to read some paperback flimsy book, I wanted to find a good first edition and get the full reading experience out of this novel. The synopsis caught me straight and over my two month hunt for this book, I found it and devoured the book in a few days. This book just tore me apart, there is so much that touches you and the aspect this novel takes is so unique, well thought, and just straight downright brilliant that I am so glad I found a first edition to sit on my shrine. This book will stay with me, forever; in fact it will probably haunt me afterwards as well. This is the caliber of book that should and needs to be passed down through generations.
This book was near torture, and it's mainly because of Hannah. Hannah kills herself, and the suicide really isn't what gets you, but how she handles her death, and what goes into the whole ordeal. Prior to her death she makes a series of 13 cassette tapes, and mails them to the 13 people who played a part in her demise. It's such a sad story, and while I don't buy into all of Hannah's story, it's more of a difference of opinion/perspective, but I completely understand and see where she is coming from. That's the part that makes the book great, is while it differs from my personal ideals, I find the book relatable and overall enjoyable.
The story picks up with Clay who is just overall likeable, maybe a bit too much.He's the one who while not the first (more so the middle of the pack) who receive the tapes, is by far the most devastated by their implication. I mean how can someone like Clay be part of Hannah's death? His reaction to the tapes is the most realistic and I can only imagine how I would react if I had to deal with listening to tapes of those nature.
Now most of everyone is probably asking, why doesn't he just stop and not listen to them. That's what my first question and issue was which was addressed quickly; Hannah made a second set of tapes and another student (her friend of sorts) and their supposed to keep track of where the tapes are at and if they don't make it to the end, the second set is to happen to show up at a police office. I find this adding a dynamic to the book that forces the reader and Clay to continue.
What makes this book so impactful is the message. While at the beginning the acts against Hannah are almost laughable and so miniscule that even I almost gave up on the book. However, as the book keeps going, those small little events escalated to a much larger issue. It's how even in high school no one really thought of how their actions would affect the person, let alone the long term. It's that part there that makes this book so realistic, and so compoundly amazing. I wish there was more to this novel and about Clay, because it deserves it.
Jay Asher lit up the whole YA world with this novel, and frankly I wish there were more books like this. Its life changing and while it's probably one of my favorite books of the year, there are parts that I disagree with. Now I am able to look past that and really, those differences don't hurt the book at all. Its more of a lifestyle difference, it's those difference that make the book that great and realistic. I found that this book makes the whole situation heart-wrenching and an emotional rollercoaster. There need to be more books like this.