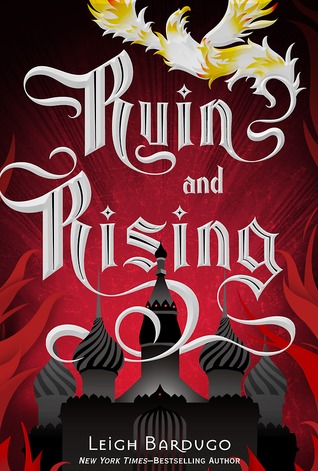 Title:
Ruin and Rising
Author:
Leigh Bardugo
Series:
#3 -
Grisha Trilogy
Format:
Hardcover
Release Date:
June 17th, 2014
My Rating:
3.0 out of 5.0
The capital has fallen.
The Darkling rules Ravka from his shadow throne.

Now the nation's fate rests with a broken Sun Summoner, a disgraced tracker, and the shattered remnants of a once-great magical army.

Deep in an ancient network of tunnels and caverns, a weakened Alina must submit to the dubious protection of the Apparat and the zealots who worship her as a Saint. Yet her plans lie elsewhere, with the hunt for the elusive firebird and the hope that an outlaw prince still survives.

Alina will have to forge new alliances and put aside old rivalries as she and Mal race to find the last of Morozova's amplifiers. But as she begins to unravel the Darkling's secrets, she reveals a past that will forever alter her understanding of the bond they share and the power she wields. The firebird is the one thing that stands between Ravka and destruction—and claiming it could cost Alina the very future she's fighting for.
My Review:
Ruin and Rising a book that I was debating on how I felt going into it. I was excited for another Leigh Bardugo book, but after the ending of Siege and Storm I had doubts on the direction this book would lead me. So I wasn't all that hyped going into it as I had been for Siege and Storm, but that didn't deter me from the plot and the twists and turns that Leigh Bardugo throws at her readers. The story was complex and at times it was heart-wrenching. While I didn't agree with the ending entirely, it was warm and cozy and just plain enjoyable.

The book picks up shortly after the end of Siege and Storm with maybe a few days/months having past. Alina's recovering in the midst of the Apparat and his nearly completely delusional zealots who worship as if she's a god. Alina has no interest in being their worshiping figure, but wants to give them freedom from not only the Darkling but anyone who wants the power he possess. Which is one thing that keeps coming back to me over and over with Alina; she tends to react for the greater good before thinking about herself. It occurs more often than anything in this book, which is more heroic and saint-like than what she thinks.

Alina and Mal are on the hunt for the phoenix to complete Morozova's color, and while she they are searching for it, the Darkling is on their tail nearly at every turn. The Darkling has declared nearly all out war on anyone affiliated with Alina and Nikolai. I find that there wasn't enough Darkling in this book. He wasn't a villain more of an evil guy that just happens to show up at random times. Yea there are some visions and insights into him, but there it just never added up to gain an attachment or fear him at all.

Now Nikolai was a figure that while being the sassy attractive figure that everyone grew to love in Siege and Storm. However in Ruin and Rising he just falls sort of his normal attachment. I rarely found that he was trying to win Alina over like previous and was more of that creepy guy hanging out in the bushes. But further when he gets involved with the Darkling the outcome just leaves him a shell of who he was. For a good part of the book he was the light, the comic relief of the book and by removing that the book just got dark and depressing. It needed Nikolai, and far far more of his light heartedness.

Getting on with Mal, there was just not enough of him to really comment on that anyone who read the first book wouldn't already know. The character growth for Mal was what he was in the beginning, being the sword that will fight for Alina. While that is at times costly, it just keeps Mal locked into one roll that cannot and will not change. I find Mal likable and would have preferred to see what he could have done if he didn't need to find that phoenix for Alina. It was just so tragic to see a preferred love interest just get locked into one spot and not allowed to deviate.

The world in this book is generally the same. The beginning of the novel is rather lackluster tunnel system, that is more confusing than anything else. I wanted more out of this, some sort of way to tell what is going on inside the tunnels. Outside and in the normal world which is the rest of the book, it was all similar to the previous parts of the series. Ruin and Rising just rinsed and repeated what's already been done. There was a new outpost with Nikolai and the little journey to find the Phoenix. But at the same time, so much of the book was reused and rehashed, that it just stole from what hope was there.

I would say that this book was an easy book to rate and deserves the rating it got. However, when I started writing this review and even in my notes I have it done for a solid 4.0 rating. The reason it got lowered is after typing up some of the notes and the comments I had on the characters and how the world just wasn't there. I found that the title lives up to the plot. The first two were decent to great, but this just seemed to fall where Siege and Storm left off. Its sad to say, I am not sure what could have been done to make this book better other than to just start over. It just fell flat.