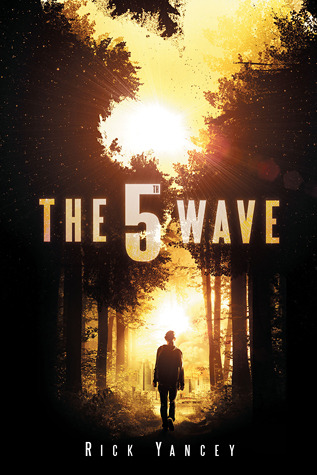 Title:
The 5th Wave
Author:
Rick Yancey
Series:
#1 -
The Fifth Wave
Format:
Hardcover
Release Date:
May 7th, 2013
My Rating:
5.0 out of 5.0
After the 1st wave, only darkness remains. After the 2nd, only the lucky escape. And after the 3rd, only the unlucky survive. After the 4th wave, only one rule applies: trust no one.

Now, it's the dawn of the 5th wave, and on a lonely stretch of highway, Cassie runs from Them. The beings who only look human, who roam the countryside killing anyone they see. Who have scattered Earth's last survivors. To stay alone is to stay alive, Cassie believes, until she meets Evan Walker.

Beguiling and mysterious, Evan Walker may be Cassie's only hope for rescuing her brother—or even saving herself. But Cassie must choose: between trust and despair, between defiance and surrender, between life and death. To give up or to get up.
My Review:
So the first 5.0 review I am doing this year for a book I read last year. While it isn't the first 5.0 rated book that I've read this year, I am sure the sequel to this book will be just as great. Rick Yancey was a new author to me and while I took a bit longer than most to jump on this book, I am saddened that it took me so long. This book was the pinnacle of fantasy and alien/thrill that I was looking for in a book that year. I just wish that I had gotten around to the book sooner and I did learn that I should probably forgo my rule of "Don't jump on the Hype wagon" and take a few more risks when books just skyrocket in popularity.
Cassie was by far one of my favorite characters in this book, and while the chapters alternate between the Evan and Ben there is a sort of down to earth and realistic personality with Cassie. She is just so young and thrown into a world war of shorts with aliens and the outcome just isn't pretty at all. Her reactions and how she handles all the events and how her family is upended and changed forever by the "waves." What I never understood though is why she "abandons" her younger brother, Sammy.
Ben is the love interest of Cassie, or shall we say it was before the whole invasion and waves. However the story Ben tells is something completely different. He's gearing up for war and going out to fight the aliens. In doing so he's being trained and losing his personality at the cost. As the story jumps around you see Ben growing to be not just a soldier who doesn't question what he's told, but at the same time, he is compassionate. When he takes in Sammy to his group, and starts training him, his character shows completely. I loved that moment of him and the insight to him that you don't normally catch through the "military man" he's presented and growing into.
The camp that Ben and Sam are at is supposedly one of the largest/last remaining military bases that supposedly is around to stop and fend of the enemy. However from the beginning you can tell there is something off about how the teens are being trained and what they go through (when they go crazy). The work they do is so desensitizing that you get to see just how bad the world has become and I couldn't imagine the raw emotion/sorrow or hopelessness they felt in doing it. To not lose yourself in that environment would be hard and almost a battle in itself.
Evan is another character that really doesn't start for a good section of the book and while I didn't realize it at first, there was something to him than being just a simple flesh and blood human. Evan is a hunter you could say and while he's there as a sleeper to help kill and pick off humans, you get to see just how ruthless the aliens/humans have become. The whole world has switched from compassion and looking out for one another, to shoot first and ask later. The depth to Evan's character is what makes him unique, but also what he is.
The whole romance between Evan and Cassie was a bit much, and while (SPOILER) Evan is an alien, that wasn't it. I just never saw how Cassie just leapt into his arms, but than again if you were surviving all on your own for that long a little companionship would be nice. Maybe not to that extreme, but that's where I don't know how one would react, if not in that situation. I did think the relationship was pretty decent, while I didn't really get involved or attached to the whole bit, it gave the novel some life and something to sort of reflect on. But you also get to see that not all the aliens think that overtaking and forcing the humans out is what should have been done. It gives life to a possibility of a rift in the aliens and an opening the humans could possibly take advantage of.
When it came to how good of a Fantasy novel this book was, there wasn't a doubt in my mind on the rating. I devoured this book for how big it was, and about started up Infinite Sea right away. I honestly can't wait to get into the sequel, and wish I would have now that I'm writing this review. Rick Yancey while I haven't really heard of, instantly makes my must watch and read list. The style of this book was perfect and dark, making the tone and the whole environment perfectly. Honestly for Fantasy and the whole alien-invasion genre, there couldn't be a better book that I've seen yet. I hope a book can prove me wrong.