Waiting On Wednesday is a weekly event, hosted over at Breaking The Spine, that spotlights upcoming releases that we're eagerly anticipating.
See something you like here?
Click the book title to add it to your Goodreads TBR List!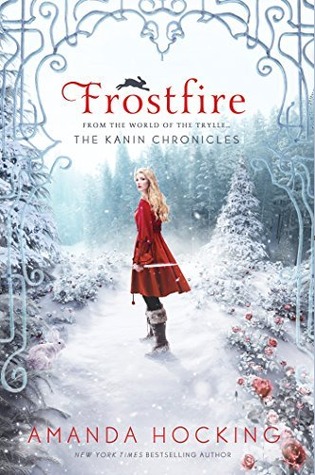 Title:
Frostfire
Author:
Amanda Hocking
Format:
Hardcover
Release Date:
January 6th, 2015
Bryn Aven is an outcast among the Kanin, the most powerful of the troll tribes.

Set apart by her heritage and her past, Bryn is a tracker who's determined to become a respected part of her world. She has just one goal: become a member of the elite King's Guard to protect the royal family. She's not going to let anything stand in her way, not even a forbidden romance with her boss Ridley Dresden.

But all her plans for the future are put on hold when Konstantin– a fallen hero she once loved – begins kidnapping changelings. Bryn is sent in to help stop him, but will she lose her heart in the process
My Stance:
Frostfire, another book by Amanda Hocking that I've not read. I need to just stop being on the internet and binge read one weekend or month. I would love to go on vacation (when I am not sick or have work to attend to), but I would love to do it while I have an array of things to post and comment on. Either way, this book is just so Wintery and Christmasy that I just had to add it. The cover is just too gorgeous to do without.

Bryn is a different sort of girl than when I read the synopsis first. I am not sure if I am really going to enjoy this as much as I think, but its worth a shot. I enjoy how this has a sort of love interest that's gone crazy or is just evil, not sure which. However, at the same time, you get the idea that she is falling for her boss (which I'm not sure if that's gross or okay, I am picturing an old wrinkly boss). I just am not sure how this fantasy will tell out, the whole love triangle that's a bit twisted and seems pretty good (I know, I said it sounds good).