Stacking the Shelves is hosted by
Tynga's Reviews
and is all about sharing the books you are adding to your bookshelf, be it the physical one or your digital one!
Shelf Additions: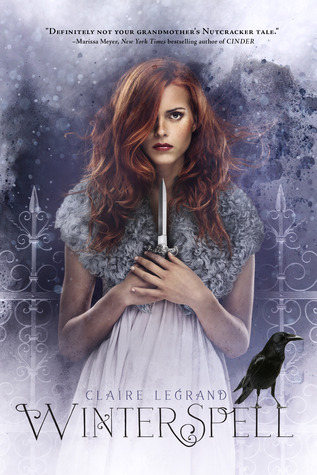 The clock chimes midnight, a curse breaks, and a girl meets a prince . . . but what follows is not all sweetness and sugarplums.

New York City, 1899. Clara Stole, the mayor's ever-proper daughter, leads a double life. Since her mother's murder, she has secretly trained in self-defense with the mysterious Drosselmeyer.

Then, on Christmas Eve, disaster strikes.

Her home is destroyed, her father abducted--by beings distinctly not human. To find him, Clara journeys to the war-ravaged land of Cane. Her only companion is the dethroned prince Nicholas, bound by a wicked curse. If they're to survive, Clara has no choice but to trust him, but his haunted eyes burn with secrets--and a need she can't define. With the dangerous, seductive faery queen Anise hunting them, Clara soon realizes she won't leave Cane unscathed--if she leaves at all.

Inspired by The Nutcracker, Winterspell is a dark, timeless fairy tale about love and war, longing and loneliness, and a girl who must learn to live without fear.
---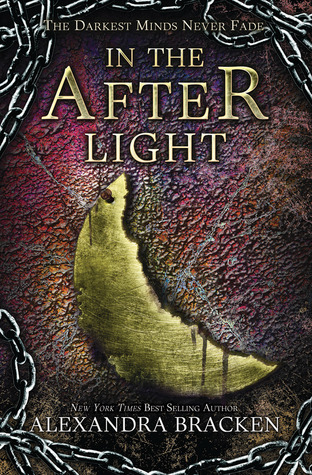 Ruby can't look back. Fractured by an unbearable loss, she and the kids who survived the government's attack on Los Angeles travel north to regroup. With them is a prisoner: Clancy Gray, son of the president, and one of the few people Ruby has encountered with abilities like hers. Only Ruby has any power over him, and just one slip could lead to Clancy wreaking havoc on their minds.

They are armed only with a volatile secret: proof of a government conspiracy to cover up the real cause of IAAN, the disease that has killed most of America's children and left Ruby and others like her with powers the government will kill to keep contained. But internal strife may destroy their only chance to free the "rehabilitation camps" housing thousands of other Psi kids.

Meanwhile, reunited with Liam, the boy she would-and did-sacrifice everything for to keep alive, Ruby must face the painful repercussions of having tampered with his memories of her. She turns to Cole, his older brother, to provide the intense training she knows she will need to take down Gray and the government. But Cole has demons of his own, and one fatal mistake may be the spark that sets the world on fire.
Title:
Defy
Author:
Sara B. Larson
Format:
Hardcover
Release Date:
January 7th, 2014
A lush and gorgeously written debut, packed with action, intrigue, and heart-racing romance.

Alexa Hollen is a fighter. Forced to disguise herself as a boy and serve in the king's army, Alex uses her quick wit and fierce sword-fighting skills to earn a spot on the elite prince's guard. But when a powerful sorcerer sneaks into the palace in the dead of night, even Alex, who is virtually unbeatable, can't prevent him from abducting her, her fellow guard and friend Rylan, and Prince Damian, taking them through the treacherous wilds of the jungle and deep into enemy territory.

The longer Alex is held captive with both Rylan and the prince, the more she realizes that she is not the only one who has been keeping dangerous secrets. And suddenly, after her own secret is revealed, Alex finds herself confronted with two men vying for her heart: the safe and steady Rylan, who has always cared for her, and the dark, intriguing Damian. With hidden foes lurking around every corner, is Alex strong enough to save herself and the kingdom she's sworn to protect?
---
Lyla is caught between two worlds. The isolated Community that she grew up in and the outside world that she's navigating for the very first time. The outsiders call the Community a cult, but Pioneer miraculously survived a shooting that should have killed him. Are the faithful members right to stay true to his message? Is this just a test of faith? One thing is for sure: the Community will do anything to bring Lyla back to the fold. Trapped in a spider's web of deception, will Lyla detect the sticky threads tightening around her before it's too late? She'll have to unravel the mystery of what Pioneer and the Community are truly up to if she wants to survive.

Suspenseful and chilling, Astray is Amy Christine Parker's nerve-fraying sequel to Gated. This fast-paced psychological thriller is masterfully plotted and sure to leave goose bumps. Perfect for fans of creepy YA thrillers and contemporary fiction alike.
---
For hundreds of years, the vampire Balthazar has been alone-without allies, without love.

When Balthazar agrees to help Skye Tierney, a human girl who once attended Evernight Academy, he has no idea how dangerous it will be. Skye's newfound psychic powers have caught the attention of Redgrave, the cruel, seductive master vampire responsible for murdering Balthazar and his family four centuries ago. Now Redgrave plans to use Skye's powers for his own evil purposes.

Balthazar will do whatever it takes to stop Redgrave and exact his long-awaited revenge against his killer. As Skye and Balthazar stand together to fight him, they grow closer-first unwillingly, then undeniably. Balthazar realizes his lonely world could finally be changed by her. . . .
---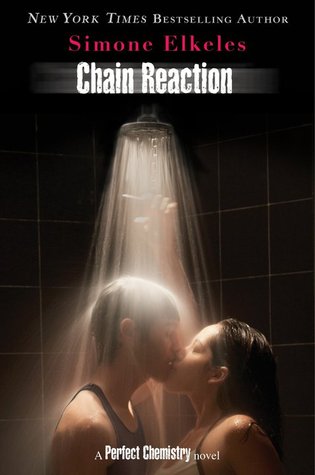 Like his brothers, Luis Fuentes is a risk taker; whether he's scaling the Rocky Mountains or dreaming of a future as an astronaut, Luis is always looking for the next thrill.

Nikki Cruz lives her life by certain rules ― don't trust a boy who says "I love you", boys lie to get their own way and never date a boy from the south side of Fairfield. Then she meets Luis at his brother Alex's wedding and suddenly she's tempted to break all her rules.

Getting Nikki to give him a chance is Luis's biggest challenge, until he finds himself targeted by the head of the gang that nearly destroyed his brothers' lives. Will Luis's feelings for Nikki be enough to stop him from entering a dark and violent world that could prove to be the ultimate risk?
---
Gwen's life has been a rollercoaster since she discovered she was the Ruby, the final member of the secret time-traveling Circle of Twelve. In between searching through history for the other time-travelers and asking for a bit of their blood (gross!), she's been trying to figure out what all the mysteries and prophecies surrounding the Circle really mean.

At least Gwen has plenty of help. Her best friend Lesley follows every lead diligently on the Internet. James the ghost teaches Gwen how to fit in at an eighteenth century party. And Xemerius, the gargoyle demon who has been following Gwen since he caught her kissing Gideon in a church, offers advice on everything. Oh, yes. And of course there is Gideon, the Diamond. One minute he's very warm indeed; the next he's freezing cold. Gwen's not sure what's going on there, but she's pretty much destined to find out.
---
Striking out into the wasteland with nothing but her baby sister, a handful of supplies, and a rumor to guide her, sixteen-year-old midwife Gaia Stone survives, only to be captured by the people of Sylum, a dystopian society where women rule the men who drastically outnumber them, and a kiss is a crime. In order to see her sister again, Gaia must submit to their strict social code and the oppressive rules of Matrarc Olivia. Meanwhile, two brothers claim her attention as they attempt to understand the environmental trap that keeps the people of Sylum captive, and suddenly Gaia must contend with the exciting, uncomfortable, and altogether new feeling of being desired.

But when someone from her past shows up, Gaia discovers that survival alone is not enough and that justice requires sacrifice.