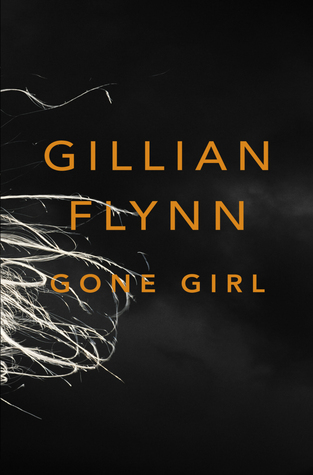 Title:
Gone Girl
Author:
Gillian Flynn
Format:
Hardcover
Release Date:
May 24th, 2012
My Rating:
5.0 out of 5.0
On a warm summer morning in North Carthage, Missouri, it is Nick and Amy Dunne's fifth wedding anniversary. Presents are being wrapped and reservations are being made when Nick's clever and beautiful wife disappears from their rented McMansion on the Mississippi River. Husband-of-the-Year Nick isn't doing himself any favors with cringe-worthy daydreams about the slope and shape of his wife's head, but passages from Amy's diary reveal the alpha-girl perfectionist could have put anyone dangerously on edge. Under mounting pressure from the police and the media--as well as Amy's fiercely doting parents--the town golden boy parades an endless series of lies, deceits, and inappropriate behavior. Nick is oddly evasive, and he's definitely bitter--but is he really a killer?

As the cops close in, every couple in town is soon wondering how well they know the one that they love. With his twin sister, Margo, at his side, Nick stands by his innocence. Trouble is, if Nick didn't do it, where is that beautiful wife? And what was in that silvery gift box hidden in the back of her bedroom closet?
My Review:
This book was one that blew my mind. There aren't many mystery books that I really get into, well okay this really isn't so much of a mystery as a psychological thriller. Nick and Amy are a gorgeous mess, and how you feel for the characters changes constantly. I found myself hating Nick and then feeling sorry for him then hating him again. This book just took my breath away and as many of you have read from my movie review, that won't be surprising.

Nick is an unemployed magazine writer, and just after the collapse of the journalism field, him and his wife are left reeling. Now I am not saying that they are hurting for money, but they are left with a lot of free time they don't know what to do with. Each have their own way of dealing with it, but it causes a strain on their marriage and Amy is just victimized (or is she?). I don't want to explain much about the two but I will explain what I think their personalities are:

Nick is used to being front and center, so he needs to be appreciated, and wants to be noticed. Time and time again he buys random things with Amy's credit cards. He isn't a womanizer, at least at first, I think as their marriage strains and pressure rises it rises into question. However what to take out of the whole bit is he loves Amy through their marriage, he just gets a bit bored. Nowadays that's common, but Nick doesn't go about it the moral or ethical way. Nick isn't perfect, and while he tries to appear perfect, I don't think he wants to be perfect.

On the other hand we have Amy. She's the only child of an overly wealthy family whose parents have written some good children books. They leave her with a trust fund that will pretty much settle Amy's lifestyle for good. However, Amy is constantly compared to those books, and even if she isn't known for being perfect, I think she tries her best to be perfect. She wants people to notice her and not her books, which may be saying too much. I love Amy, she's great and while she's almost the near polar opposite of Nick they fit together.

I wanted this book to be a mystery, but frankly it's pieces of a mystery that are thrown together around a thriller. How the story jumps between Nick and Amy's diary is fantastic at showing the present and the how Amy came up to being dead and resenting Nick. I love the story and while Nick isn't the best character, the way the story revolves around him, humanizing him makes the story so much better. There is a great twist, that I can't even touch, because it'd be a rather large thriller, I just hope you give the book a chance and read it.