Waiting On Wednesday is a weekly event, hosted over at Breaking The Spine, that spotlights upcoming releases that we're eagerly anticipating.
See something you like here?
Click the book title to add it to your Goodreads TBR List!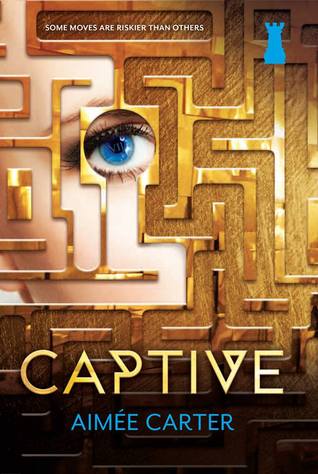 Title:
Captive
Author:
Aimee Carter
Format:
Hardcover
Release Date:
November 25th, 2014
For the past two months, Kitty Doe's life has been a lie. Forced to impersonate the Prime Minister's niece, her frustration grows as her trust in her fake fiancé cracks, her real boyfriend is forbidden and the Blackcoats keep her in the dark more than ever.

But in the midst of discovering that her role in the Hart family may not be as coincidental as she thought, she's accused of treason and is forced to face her greatest fear: Elsewhere. A prison where no one can escape.

As one shocking revelation leads to the next, Kitty learns the hard way that she can trust no one, not even the people she thought were on her side. With her back against the wall, Kitty wants to believe she'll do whatever it takes to support the rebellion she believes in—but is she prepared to pay the ultimate price?
My Stance:
First of all what is with the whole bit of "are they willing to pay the ultimate price?" I see it everywhere now and everyone is asking the same question in nearly the same way. Of course if the reward is better than what the price is, the person will go for it, or just how they believe the reward would be. It's not hard, and rankly I find it rather annoying to see it; there has to be better ways to address a plot objective.

Sequel to Pawn here is another book I haven't read. I want to don't get me wrong, but there are just too many books, and from looking at the cover I'm assuming Kitty is the girl on the cover who looks bald. The face just looks awkward and maybe it would have been hard to kind of convey the hair. Either way while I don't completely understand the whole gist of the story, there are parts of the book that to me don't make any sense. I am looking forward to the book.

While I haven't read the book and it's not immediately on my TBR list, this book has me intrigued. I am not sure if it's going to be good or bad. I am more interested in seeing if either is that case. I look forward to diving into the novel and experiencing the story. I should really read Pawn before hand and make a better assessment there, but hey, this is half the fun.