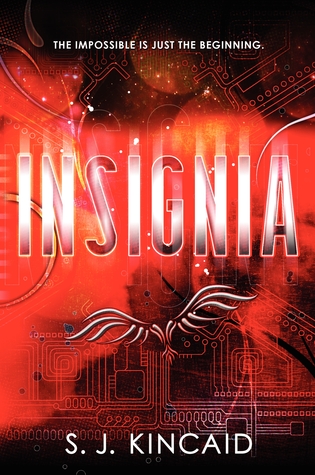 Title:
Insignia
Author:
S.J. Kincaid
Series:
#1 -
Insignia
Format:
Hardcover
Release Date:
July 10th, 2012
My Rating:
3.0 out of 5.0
The earth is in the middle of WWIII in Insignia, the first entry in S. J. Kincaid's fast-paced sci-fi adventure trilogy perfect for fans of Ender's Game.

The planet's natural resources are almost gone, and war is being fought to control the assets of the solar system. The enemy is winning. The salvation may be Tom Raines. Tom doesn't seem like a hero. He's a short fourteen-year-old with bad skin. But he has the virtual-reality gaming skills that make him a phenom behind the controls of the battle drones.

As a new member of the Intrasolar Forces, Tom's life completely changes. Suddenly, he's someone important. He has new opportunities, friends, and a shot at having a girlfriend. But there's a price to pay...
My Review:
Insignia is one of those books that rather surprised me. I thought it would be one of these great space/sci-fi novels that would have blown my mind years ago. Well while it may have done that years ago, this just didn't do so at all. I wanted to to, but frankly this book just had some over the top, almost want to be immortal assumptions that just just ruined the book for me. I wish it didn't, but there were too many liberties taken for me to enjoy the book.

The world is realistic, sort of, the whole big corporations of the world are what hold everything together. In doing so most of the governments around the world have crumbled and the corporations are what divide and define regions for the most part. There are still countries, but that's almost irrelevant, almost. I can see that happening now that I am older, had I been younger that sort of dystopian would've been rather hard to follow and really just comprehend.

Tom Raines being the protagonist isn't your typical hero-child, and that's what I enjoyed the most about the book. He's a rather nerdy-gamer whose appearance is rather lacking. He knows it and while it does bother him some, he's more of the kind of guy that tends to follow the flow However when he's sought out to be on some interstellar force in which the large corporations fight over resources in space, he takes it openly. I think it's mainly to escape his father and the needless gambling he does, but at the same time he wants to do what suites him and makes him happy to.

Where I had issues with the book were the "soldiers." They were teenagers nearly all of them, but they go through a process in which a computer chip/processor is implanted in their brains. It allows them to connect to a network and download their "homework," but it also changes their appearance and ages them faster. They almost instantly go through puberty or the whole growth bit, but lack the mental capacity to fully understand what's going on. I found it hard to radically change the character that much in such a short time span. I like the notion and the whole idea, but it just seemed so radical.

What the teens get out of the whole bit is they can than link into the computer and interface with some ship in space and use that to battle or command an entire fleet. The virtual world was rather great and probably brought the best part of Tom and his rival to the forefront. He's great and whatnot, but combine that with the Vikram is the best part of the whole book and how they're friendship works. I loved Tom and Vik's interactions together, and while there were times where they were a bit much, ti worked.

This book while was only decent, surprised me. I wasn't sure it what to really expect, but this wasn't it at all. Tom while he does seem to be a well rounded character, there was just parts of him that I couldn't get past. The whole soldier transformation was just too much too quick, I wanted to get to know the characters prior to the whole change. Further, the ending was a bit lackluster, I just got into the book and got into the characters, when the book ended. It was just a hard book to get into, I loved the small time I did get into the book though.