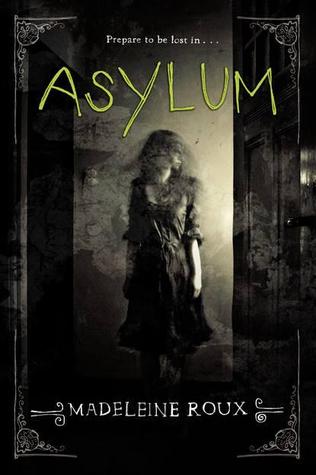 Title:
Asylum
Author:
Madeleine Roux
Series:
#1 -
Asylum
Format:
Hardcover
Release Date:
August 20th, 2013
My Rating:
4.0 out of 5.0
Asylum is a thrilling and creepy photo-novel perfect for fans of the New York Times bestseller Miss Peregrine's Home for Peculiar Children.

For sixteen-year-old Dan Crawford, New Hampshire College Prep is more than a summer program—it's a lifeline. An outcast at his high school, Dan is excited to finally make some friends in his last summer before college. But when he arrives at the program, Dan learns that his dorm for the summer used to be a sanatorium, more commonly known as an asylum. And not just any asylum—a last resort for the criminally insane.

As Dan and his new friends, Abby and Jordan, explore the hidden recesses of their creepy summer home, they soon discover it's no coincidence that the three of them ended up here. Because the asylum holds the key to a terrifying past. And there are some secrets that refuse to stay buried.

Featuring found photos of unsettling history and real abandoned asylums and filled with chilling mystery and page-turning suspense, Madeleine Roux's teen debut, Asylum, is a horror story that treads the line between genius and insanity.
My Review:
Asylum wasn't what I thought it'd be and while it was a great thriller this was something I thought missing from the whole novel. I thought was going to be this scary sort of novel that would jump off the page and scream in my face, the typical normal jump scare most movies play into nowadays. However in this case the novel is far more sinister, it's what will keep you up at night and make you question how cruel/sinister or twisted the world really is. I loved the novel and I can't wait for the sequel to enter my long list of TBR books.

Dan Crawford is the protagonist and while he's not all that interested, it's what makes the book spark and give it life. The thrills prey on his characterization and weaknesses to make him look more human. It's done so well, I found it hardly noticeable until after the book. In fact, which part of me dreaded Dan's personality, I don't think a stronger more apt character would have made the story better. The lack of character in Dan though did hurt the book, he just didn't seem to fit the novel at all, and made the experience a bit awkward. Maybe I'm too grown up or just expecting something different from a thriller/horror novel.

The sanatorium or asylum in this case was magnificent. I enjoy how demented and twisted the underbelly of the building was. It made you curious to want to go further but you knew in the back of your mind that you shouldn't. Roux does a great job with the world building and I would have to say it brought the thrill more than anything. The photos that went with the whole bit, just brought the whole thing together and made up for the fault in Dan. It's just jaw dropping, but if you want to be cynical, it's not the best and you are probably asking for too much out of this novel. I enjoyed it because of what it was, I didn't expect the whole scenery to be the best I've ever read, but it was unique and original and that satisfied me.

Now Abby is sort of a romance figure of sorts, but while I see it, frankly it was there just to kind of blind the whole thrill or distract you. I thought it was rather clumsy and needed more depth to really understand what was going on. Abby though was a great character who had depth and curiosity, frankly she was the one that probably got them into the most trouble or awkward positions. She was a breath of life into the characters.

Now Jordan is a friend of Abby and slowly finds his way into Dan. Jordan is confusing to be honest, I understand that he's gay, but he's so bold and rash upfront. But underneath everything he's the one that cowers or flees in fear first. He nevers really leaves the two's sides, but he's the one that's chickening out the first. I didn't quote understand his tough exterior and soft interior, it made for a rather clumsy and awkward character. I found myself more confused, and trying to understand Jordan more than the others, it just didn't come natural.

Now the antagonist wasn't really a surprise and I figured pretty much a third the way into the novel who it was. It wasn't hard, and that did take away from a bit of the thrill, but the surroundings made up for it. It's not the fear of what's around the corner, but what could be or what they will find. The asylum was used for a dissection or meddling in the brain of end-of-the-line convicts. So the surgeon or warden would operate and try to fix the broken, it was really weird and while that did really happen, the photos just packaged it so well. I loved it, I cannot wait for the sequel.