Waiting On Wednesday is a weekly event, hosted over at Breaking The Spine, that spotlights upcoming releases that we're eagerly anticipating.
See something you like here?
Click the book title to add it to your Goodreads TBR List!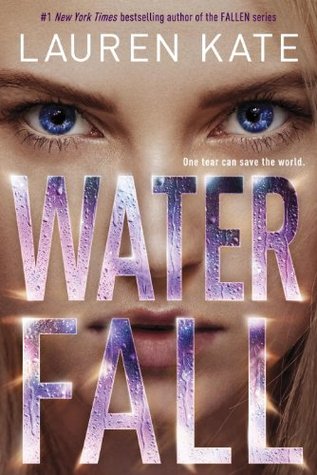 Title:
Waterfall
Author:
Lauren Kate
Format:
Hardcover
Release Date:
October 28th, 2014
From the #1 New York Times bestselling author of the Fallen books comes WATERFALL, a novel about love, betrayal, and epic consequences—a world-altering tale told by a girl whose tears have the power to raise the lost continent of Atlantis. This second novel in the Teardrop series is intensely romantic, with strong, hot main characters caught up in a thrilling fantastical love triangle. For readers who love Lauren Kate and the worlds of Alyson Noël, P. C. Cast, Maggie Stiefvater, and Veronica Rossi.

Eureka's tears have flooded the earth, and now Atlantis is rising, bringing with it its evil king, Atlas. Eureka is the only one who can stop him, but first she must learn how to fight. She travels across the ocean with Cat, her family, and Ander, the gorgeous and mysterious Seedbearer who promises to help her find Solon, an enigmatic lost Seedbearer who knows how to defeat Atlas.

Once on land, Eureka is taunted by gossipwitches, a group of displaced Atlantean sorceresses, and ambushed by locals struggling to survive amid the destruction her tears have wrought. And she feels no closer to facing Atlas or saving the world when Solon lets slip that love is Ander's weakness, and that any affection he feels toward her makes him age faster.

Trying to make sense of the dark world her sorrow has created, Eureka receives startling insight from an enchanted pond. Her bewildering reflection reveals a soul-crushing secret: if she's strong enough, Eureka can draw on this knowledge to defeat Atlas—unless her broken heart is just what he needs to fuel his rising kingdom...

In Waterfall, Eureka has the chance to save the world. But she'll have to give up everything—even love.
My Stance:
Waterfall, another book that I haven't been able to get around to start. I enjoy Lauren Kate, while she may not be one of my top authors, there is a style and storytelling aspect of her novels that keeps me coming back for more. I enjoyed the Fallen series and while some may not, the love interest and how the plot seemed to carry on, and made you want to keep going is what kept me going. I love how her novels urge you to binge read her novels, and I hope to do that with this series.

I know that this may only appeal to a few, but those that enjoy her novels I hope you check this book out. I would love to hear what people are thinking of this series, but I don't want to ruin the series or spoil anything. Lauren Kate has a great unique style, and frankly I love her romances. She is great at twining feelings together and by the end of the book you are emotionally invested into the characters without realizing it.