Waiting On Wednesday is a weekly event, hosted over at Breaking The Spine, that spotlights upcoming releases that we're eagerly anticipating.
See something you like here?
Click the book title to add it to your Goodreads TBR List!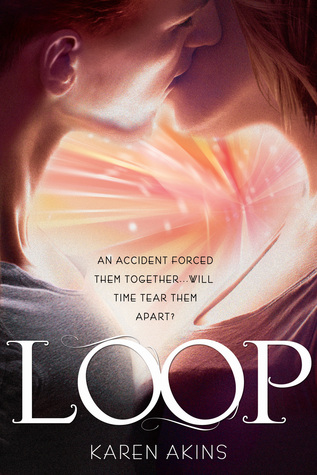 Title:
Loop
Author:
Karen Akinsken
Format:
Hardcover
Release Date:
October 28th, 2014
At a school where Quantum Paradox 101 is a required course and history field trips are literal, sixteen year-old time traveler Bree Bennis excels…at screwing up.

After Bree botches a solo midterm to the 21st century by accidentally taking a boy hostage (a teensy snafu), she stands to lose her scholarship. But when Bree sneaks back to talk the kid into keeping his yap shut, she doesn't go back far enough. The boy, Finn, now three years older and hot as a solar flare, is convinced he's in love with Bree, or rather, a future version of her that doesn't think he's a complete pain in the arse. To make matters worse, she inadvertently transports him back to the 23rd century with her.

Once home, Bree discovers that a recent rash of accidents at her school are anything but accidental. Someone is attacking time travelers. As Bree and her temporal tagalong uncover seemingly unconnected clues—a broken bracelet, a missing data file, the art heist of the millennium—that lead to the person responsible, she alone has the knowledge to piece the puzzle together. Knowledge only one other person has. Her future self.

But when those closest to her become the next victims, Bree realizes the attacker is willing to do anything to stop her. In the past, present, or future.
My Stance:
Loop has this amazing cover, the heart in the middle of the two kissing, along with the sweet red/pink tones just took my breath away. While the rest of the book doesn't really focus on the whole romance, that's where the whole plot starts. The whole time travel, but also screwing up and somehow bringing back a boy back from history. Frankly, I don't understand how a guy can be in love or have feelings for a girl over three years without seeing her at all. That's part that I have an issue with, and while I don't completely understand,

Bree I don't understand why she's made to look like a complete moron, I mean if they are told not to get involved in the past. She just sounds like a complete idiot, but in the end she is trying to save the world, with what? I mean the guy seems smarter than what she is, and how is she going to save the world? I don't buy into the whole bit, but frankly since it's built on a love story and having Everneath to kind of compare to, I am looking forward to this novel and giving it a shot.