Waiting On Wednesday is a weekly event, hosted over at Breaking The Spine, that spotlights upcoming releases that we're eagerly anticipating.
See something you like here?
Click the book title to add it to your Goodreads TBR List!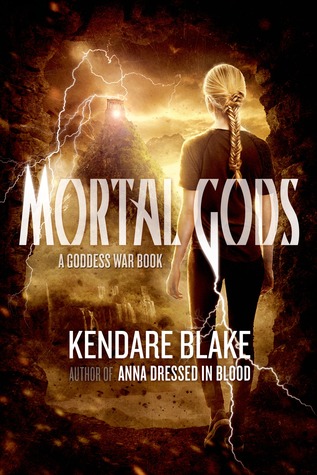 Title:
Mortal Gods
Author:
Kendare Blake
Format:
Hardcover
Release Date:
October 14th, 2014
Ares, God of War, is leading the other dying gods into battle. Which is just fine with Athena. She's ready to wage a war of her own, and she's never liked him anyway. If Athena is lucky, the winning gods will have their immortality restored. If not, at least she'll have killed the bloody lot of them, and she and Hermes can die in peace.

Cassandra Weaver is a weapon of fate. The girl who kills gods. But all she wants is for the god she loved and lost to return to life. If she can't have that, then the other gods will burn, starting with his murderer, Aphrodite.

The alliance between Cassandra and Athena is fragile. Cassandra suspects Athena lacks the will to truly kill her own family. And Athena fears that Cassandra's hate will get them ALL killed.

The war takes them across the globe, searching for lost gods, old enemies, and Achilles, the greatest warrior the world has ever seen. As the struggle escalates, Athena and Cassandra must find a way to work together. Because if they can't, fates far worse than death await.
My Stance:
One of my favorite authors is out with a book again. However I haven't read the first book in this series and yes I deserve to be beaten with a giant noodle. Kendare Blake's writing style just astounds me and I love to read her novels. I need to get into Antigodess soon. Doing WoW makes me realize how many books I need to get around to reading.

Anyways, what gets me about this book how gods and different mythologies are turned into a story that takes part of their lore and mythology into account. Further how so is able to weave those characters in and out of something unique, refreshing and ultimately modern is the reason this book is on my watch. I can't wait for this book and even though I really haven't seen anything much on it, it's still one of my favorite and anticipated books of the year.