Stacking the Shelves is hosted by
Tynga's Reviews
and is all about sharing the books you are adding to your bookshelf, be it the physical one or your digital one!

So this week has been rather interesting, I have been rather tight trying to save money here and there. I did buy a few books from BookOutlet and a few of those will show up in this, but mainly most of them will appear later in a BookHaul post. I will work on posting that as soon as I can, things are a mess around here at the moment, I am just looking for some place to move things, for I can take a few photos. I hope to have it up though. I am thinking I may do another bookshelf tour at the end of the year (it's coming up). I am wondering if anyone would be interested in seeing it? Further if I was going to do that I would try to update a physical list of books I have so that everyone can see what I have and what I don't have. Currently I think I am going to stop doing the weekly update here and just focusing on the whole Mailbox Monday theme, and then doing a weekly update post every Monday as well, that would contain what normally would be here. I doubt many people read this part and are more interested in the books and it's getting lost. Let me know what you think. Thanks.

So without further adieu:
Shelf Additions:
The City of Lights sets the stage for romance, drama and intrigue in the latest Confessions novel from the world's bestselling mystery writer!

After investigating multiple homicides and her family's decades-old skeletons in the closet, Tandy Angel is finally reunited with her lost love in Paris. But as he grows increasingly distant, Tandy is confronted with disturbing questions about him, as well as what really happened to her long-dead sister. With no way to tell anymore who in her life she can trust, how will Tandy ever get to the bottom of the countless secrets her parents kept from her? James Patterson leads this brilliant teenage detective through Paris on a trail of lies years in the making, with shocking revelations around every corner.
---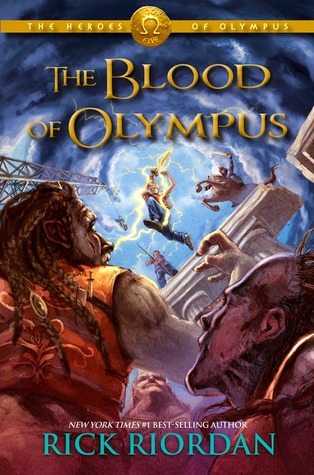 Though the Greek and Roman crewmembers of the Argo II have made progress in their many quests, they still seem no closer to defeating the earth mother, Gaea. Her giants have risen—all of them—and they're stronger than ever. They must be stopped before the Feast of Spes, when Gaea plans to have two demigods sacrificed in Athens. She needs their blood—the blood of Olympus—in order to wake.

The demigods are having more frequent visions of a terrible battle at Camp Half-Blood. The Roman legion from Camp Jupiter, led by Octavian, is almost within striking distance. Though it is tempting to take the Athena Parthenos to Athens to use as a secret weapon, the friends know that the huge statue belongs back on Long Island, where it "might" be able to stop a war between the two camps.

The Athena Parthenos will go west; the Argo II will go east. The gods, still suffering from multiple personality disorder, are useless. How can a handful of young demigods hope to persevere against Gaea's army of powerful giants? As dangerous as it is to head to Athens, they have no other option. They have sacrificed too much already. And if Gaea wakes, it is game over.
Title:
Found
Author:
Harlan coben
Format:
Hardcover
Release Date:
September 9th, 2014
It's been eight months since Mickey Bolitar witnessed the shocking, tragic death of his father. Eight months of lies, dark secrets, and unanswered questions. While he desperately wants answers, Mickey's sophomore year of high school brings on a whole new set of troubles. Spoon is in the hospital, Rachel won't tell him where he stands, his basketball teammates hate him... and then there's Ema's surprise announcement: She has an online boyfriend, and he's vanished.
---
Life can change in a split second.

Addie hardly recognizes her life since her parents divorced. Her boyfriend used her. Her best friend betrayed her. She can't believe this is the future she chose. On top of that, her ability is acting up. She's always been able to Search the future when presented with a choice. Now she can manipulate and slow down time, too . . . but not without a price.

When Addie's dad invites her to spend her winter break with him, she jumps at the chance to escape into the Norm world of Dallas, Texas. There she meets the handsome and achingly familiar Trevor. He's a virtual stranger to her, so why does her heart do a funny flip every time she sees him? But after witnessing secrets that were supposed to stay hidden, Trevor quickly seems more suspicious of Addie than interested in her. And she has an inexplicable desire to change that.

Meanwhile, her best friend, Laila, has a secret of her own: she can restore Addie's memories . . . once she learns how. But there are powerful people who don't want to see this happen. Desperate, Laila tries to manipulate Connor, a brooding bad boy from school—but he seems to be the only boy in the Compound immune to her charms. And the only one who can help her.

As Addie and Laila frantically attempt to retrieve the lost memories, Addie must piece together a world she thought she knew before she loses the love she nearly forgot . . . and a future that could change everything.
---
A fresh, urban twist on the classic tale of star-crossed lovers.

When Brittany Ellis walks into chemistry class on the first day of senior year, she has no clue that her carefully created 'perfect' life is about to unravel before her eyes. She's forced to be lab partners with Alex Fuentes, a gang member from the other side of town, and he is about to threaten everything she's worked so hard for: her flawless reputation, her relationship with her boyfriend, and the secret that her home life is anything but perfect.

Alex is a bad boy and he knows it. So when he makes a bet with his friends to lure Brittany into his life, he thinks nothing of it. But soon Alex realizes Brittany is a real person with real problems, and suddenly the bet he made in arrogance turns into something much more.

In a passionate story about looking beneath the surface, Simone Elkeles breaks through the stereotypes and barriers that threaten to keep Brittany and Alex apart.
---
In a city of daimons, rigid class lines separate the powerful from the power-hungry. And at the heart of The City is the carnival, where both murder and pleasure are offered up for sale. Once in a generation, the carnival hosts a deadly competition that allows every daimon a chance to join the ruling elite. Without the competition, Aya and Kaleb would both face bleak futures—if for different reasons. For each of them, fighting to the death is the only way to try to live.

All Mallory knows of The City is that her father—and every other witch there—fled it for a life in exile in the human world. Instead of a typical teenage life full of friends and maybe even a little romance, Mallory scans quiet streets for threats, hides herself away, and trains to be lethal. She knows it's only a matter of time until a daimon finds her and her father, so she readies herself for the inevitable.While Mallory possesses little knowledge of The City, every inhabitant of The City knows of her. There are plans for Mallory, and soon she, too, will be drawn into the decadence and danger that is the carnival.

From Melissa Marr, bestselling author of the Wicked Lovely series and Graveminder, comes a brand-new tale of lush secrets, dark love, and the struggle to forge one's own destiny.
---
Life. Possibility. Choice.
All taken from Adelice by the Guild—until she took them back.

But amid the splendid ruins of Earth, Adelice discovers how dangerous freedom can be. Hunted by soulless Remnants sent by Cormac Patton and the Guild, Adelice finds a world that's far from deserted. Although allies are easy to find on Earth, knowing who to trust isn't. Because everyone has secrets, especially those Adelice loves most. Secrets they would kill to protect. Secrets that will redefine each of them. Torn between two brothers and two worlds, Adelice must choose what to fight for.

In this thrilling sequel to Crewel, Adelice is about to learn how tangled up her past and future really are. Her parents ran to protect her, but nothing can save her from her destiny, and once she uncovers the truth, it will change everything.
---
Gwyneth Shepherd's sophisticated, beautiful cousin Charlotte has been prepared her entire life for traveling through time. But unexpectedly, it is Gwyneth, who in the middle of class takes a sudden spin to a different era!

Gwyneth must now unearth the mystery of why her mother would lie about her birth date to ward off suspicion about her ability, brush up on her history, and work with Gideon--the time traveler from a similarly gifted family that passes the gene through its male line, and whose presence becomes, in time, less insufferable and more essential. Together, Gwyneth and Gideon journey through time to discover who, in the 18th century and in contemporary London, they can trust.