Flashback Friday is a weekly event, hosted here, that highlights a past release that we're dying to get our hands on...
See something you like here?
Click the book title to add it to your Goodreads TBR List!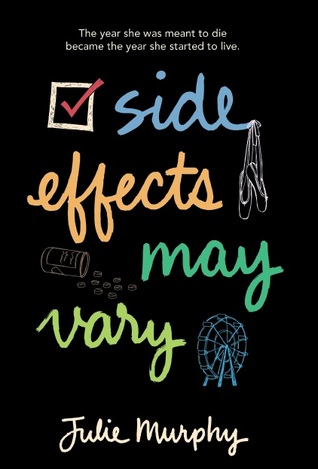 What if you'd been living your life as if you were dying—only to find out that you had your whole future ahead of you?

When sixteen-year-old Alice is diagnosed with leukemia, her prognosis is grim. To maximize the time she does have, she vows to spend her final months righting wrongs—however she sees fit. She convinces her friend Harvey, who she knows has always had feelings for her, to help her with a crazy bucket list that's as much about revenge (humiliating her ex-boyfriend and getting back at her archnemesis) as it is about hope (doing something unexpectedly kind for a stranger). But just when Alice's scores are settled, she goes into remission.

Now Alice is forced to face the consequences of all that she's said and done, as well as her true feelings for Harvey. But has she caused irreparable damage to the people around her—and to the one person who matters most?

Julie Murphy's Side Effects May Vary is a fearless and moving tour de force about love, life, and facing your own mortality.
My Stance:
After reading The Fault in Our Stars by John Green similar style and harder/deeper novels have been moving up my list of books I want to read. I find the question and the perspectives they give far more entertaining and just pull me in more. I love how they take a unique stance and explore it, while it may not be true or may not be exactly what we all thought would happen, it's a great insight into what it would be like. Maybe the author did a Q&A with someone to get the overall experience right, I won't know, but it doesn't matter. The plot and how the story is told with the given facts is what matters.

So when a book about a girl is diagnosed with leukemia, and the prognosis isn't all that fantastic. You can bet your ass I would live like it was my last day or month. I wouldn't let anything stop me, and frankly nothing would. As John Green would say, "Cancer Perc." However in this case, she is out for revenge, and manages to offend a few people. However I don't understand how she hurts Harvey? I mean if her sights on are her ex-boyfriend and her rival, than where does Harvey fit in? Makes me wonder about the plot, but I love the plot and the general idea. Its great, I can't wait.