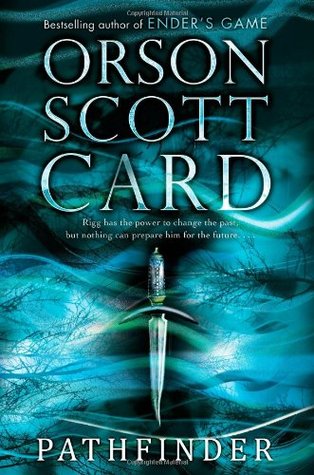 Title:
Pathfinder
Series:
Orson Scott Card
Series:
#1 -
Pathfinder
Format:
Hardcover
Release Date:
November 23rd, 2010
My Rating:
3.5 out of 5.0
A powerful secret. A dangerous path.

Rigg is well trained at keeping secrets. Only his father knows the truth about Rigg's strange talent for seeing the paths of people's pasts. But when his father dies, Rigg is stunned to learn just how many secrets Father had kept from him--secrets about Rigg's own past, his identity, and his destiny. And when Rigg discovers that he has the power not only to see the past, but also to change it, his future suddenly becomes anything but certain.

Rigg's birthright sets him on a path that leaves him caught between two factions, one that wants him crowned and one that wants him dead. He will be forced to question everything he thinks he knows, choose who to trust, and push the limits of his talent…or forfeit control of his destiny.
My Review:
This was a book that just flat out surprised me nearly at every turn. I was happy when I finished it, and not that it was a bore to get through, quite the opposite. It was unique, very clever, and very intense. There wasn't a lot of action, but how the story weaves around time is just amazing. There are to parallel times in this book and they jump back and forth, telling both the current events and a past/history that helps character building and world building as well.

The first is Rigg who has a power, in which allows him to see the paths traveled by people and animals as well. He can gather information about who the path belong to, how long ago the path had been traveled, and what the path belonged to (animal or human). Rigg is this outdoorsy hunter who enjoys the wild, I enjoyed watching him and getting to know his character, which was rather diverse. Rigg has another secret as well, and that is how he can react to nearly any situation.

There is another part in which Ram is a captain of a ship, in which a bunch of robots (or robots who feel they don't need humans other than an outside opinion to their decisions). Ram while he isn't in the book all that often, the story and history that builds with the brief moments help build the rest of the story. There isn't a part or a character in this novel that is left to chance, there is a reason or is mounting towards something more. Ram is proof of that.

The biggest groan in this book is the time and environment. Frankly how Rigg's sees the paths and is able to distinguish what is what, is rather confusing. By this I mean if one is important frankly there needed to be more information or description about it. It's so confusing trying to figure out what he's looking out and time period. Further a lot of the character design (appearance wise) and world building was rather lackluster. A lot of the world was left undone. Frankly most of the world you could build your own world with what's there and frankly I found it kinda sad coming from Card.

This book has a great potential and while I thought it executed what was presented, I just think that there is a lot to the whole fantasy part that could make this book so much better. I wanted something that helped build the world and gave a better description of the characters. It's not that hard to do with a possible alternative view from a supporting character. Further there wasn't any romance in this novel like I thought there would be. It was a missed opportunity to enhance the story and give more purpose to the characters, Riggs just didn't seem to have a main purpose other than to find his sister, which only goes so long.

If you want a great high-fantasy novel there just are betters out there, and I'm not trying to compare novels at all or say that this book isn't worth the read. Frankly the pinnacle of fantasy novels would have to be Finnikin of the Rock (Melina Marchetta), so feel free to check that out if this isn't your fancy.