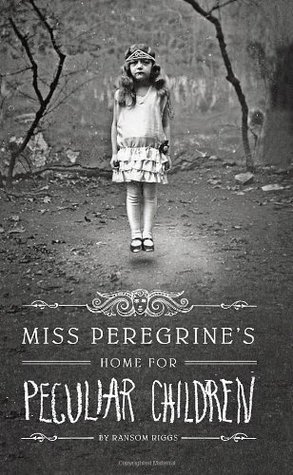 Title:
Miss Peregrine's Home for Peculiar Children
Series:
Ransom Riggs
Series:
#1 -
Miss Peregrine's Peculiar Children
Format:
Hardcover
Release Date:
June 7th, 2011
My Rating:
4.0 out of 5.0
A mysterious island. An abandoned orphanage. A strange collection of very curious photographs.

It all waits to be discovered in Miss Peregrine's Home for Peculiar Children, an unforgettable novel that mixes fiction and photography in a thrilling reading experience. As our story opens, a horrific family tragedy sets sixteen-year-old Jacob journeying to a remote island off the coast of Wales, where he discovers the crumbling ruins of Miss Peregrine's Home for Peculiar Children. As Jacob explores its abandoned bedrooms and hallways, it becomes clear that the children were more than just peculiar. They may have been dangerous. They may have been quarantined on a deserted island for good reason. And somehow—impossible though it seems—they may still be alive.

A spine-tingling fantasy illustrated with haunting vintage photography, Miss Peregrine's Home for Peculiar Children will delight adults, teens, and anyone who relishes an adventure in the shadows.
My Review:
I have heard a lot of good things from Ransom Riggs and this novel, while I was a bit weary this book. I wasn't sure how well I would enjoy the peculiar children or what the topic would be. Afterwards, I am glad I read the book it was different and I hadn't thought it was as much of a fantasy as it turned out to be. I thought this book would be more of a Sucker Punch soft of movie, an orphanage with an evil woman, but that's not at all the case.

Jacob is a teen, who grows up listening to his grandfathers outlandish stories. With photos to aid in the stories, Jacob is loving and compassionate. However when he starts to disbelieve his grandfather, the unexplainable happens, and his disbelief is put to the test. Jacob convinces his father to go to an island off Wales where his father stayed and found a group of peculiar children. The general idea was splendid, but I don't think the intended design worked out.

What I was expecting to see was the orphanage to be a small little house as a lone part of the island. That was not the case at all. The orphanage was some derelict of a house on a hill, outside of a small port village. It was this old abandoned village, and Jacob first of all is stupid enough to go into the house and explore it. First of all, it was told right and was rather suspenseful. However what it leads to is less dramatic and far from what I expected.

The peculiar live in this alternate universe existing in a single day in the past. Meaning the same day repeats itself over and over, forever. No one ages, sort of I guess (which confused me do no end.) I mean how does time persist and pass for them, they know it's happening and they retain the memories and experiences continually, however they do not age. But the band of peculiars brought the nostalgia of old marvel heroes, or just a rag-tag group of heroes whose powers may not have been mighty enough to be super heroes. I enjoyed the relationship between Jacob and these children.

Now while most of the book is spent splitting the universe and going back and forth, it's done in such a way as there is a clear cut description and transition. The story-telling was grand and far better than what I had thought a Riggs novel would be. What through me for the loop though was the girl who was in love with Jacob's grandfather, falling for Jacob. That's like gross, almost an incest, taboo sort of thing that didn't appeal to me at all, and is probably the biggest gripe I had. Otherwise the book was just done well.

For me this book was close to a 4.5, and I probably should bump it, but frankly I just can't. It was done well, but I couldn't buy into Jacob as well as I thought I would. I didn't see his actions as plausible or justified. It was more of a, I need a direction for the story, Jacob will now do this. I found it hard to buy into the character, the band of peculiars were different. They were child-like and far more original and inviting. There is no way I can do a 5.0 for this book, it's just not that caliber of a book.