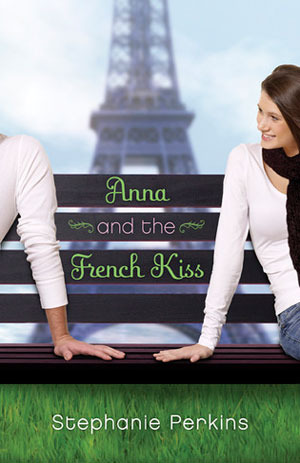 Title:
Anna and the French Kiss
Series:
Stephanie Perkins
Series:
#1 -
Anna and the French Kiss
Format:
Hardcover
Release Date:
December 2nd, 2010
My Rating:
4.0 out of 5.0
Anna is looking forward to her senior year in Atlanta, where she has a great job, a loyal best friend, and a crush on the verge of becoming more. Which is why she is less than thrilled about being shipped off to boarding school in Paris--until she meets Étienne St. Clair. Smart, charming, beautiful, Étienne has it all...including a serious girlfriend.

But in the City of Light, wishes have a way of coming true. Will a year of romantic near-misses end with their long-awaited French kiss?
My Review:
Initially I thought this was going to be a good 3.0. It's nothing new or original. However, I upped it for how simple, organized, complex (plot wise), and dramatically romantic it was. I know how I hype and keep talking about doing something original and new. This book's setting was newish for me, I've seen the whole love in Paris thing, but how the two interact with each other and how the romance played out was just refreshing.

There are problems with the book, and parts where you'll sigh and wonder if the book is too cheesy. However, the book makes it work, and it's so cute and refreshing. The characters have such a great romance, and it doesn't begin all movie-like. There are bumps and twists the two face, and it makes the whole seem natural and solidify their relationship. While the book does take place in Paris, there's not that much that surprises me or makes me feel something new or original. I would have thought the environment would have been the past part of this book, but it just wasn't there.

Etienne was so refreshing from the other male love interest in YA books. Normally they are all douches or arrogant to a major fault, but Stephanie does a fantastic job making Etienne something relatable and enjoyable. Frankly, there are times when I thought he acted too prissy and didn't buck up when he could have. However, like I said before it played out well and just ended so well. Etienne was just so different from the norm that I enjoyed his cheery character.

Anna was so great, and while so relatable that she made the book enjoyable. I imagine that every high school girl would be able to relate to her. I am not a girl of course, but she was so great. I imagined her being attractive and there are points that I wasn't sure why most of the boys didn't want to talk or try with her. Maybe it's the fact that she's an american in Paris. She was refreshing, and had this wild side to her that made me smile and enjoy her persona better.

Now I am not saying that this book is for most people, I can see how some people wouldn't enjoy this cheery book. I hope you do give the book a chance though. While it isn't anything outstandingly new or unique, but it's a refreshing book that is worth the time. I found myself enjoying the book more than what I had thought. I was impressed with how Stephanie worked through some of the lackluster and sticky parts of the book and making it work. I love how she pulled it off and how the supporting characters just added to the whole experience, it is just too good to pass up.