Waiting On Wednesday is a weekly event, hosted over at Breaking The Spine, that spotlights upcoming releases that we're eagerly anticipating.
See something you like here?
Click the book title to add it to your Goodreads TBR List!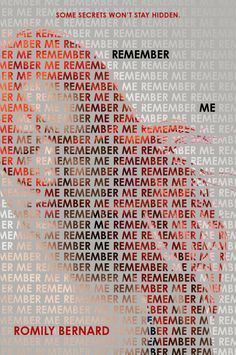 Title:
Remember Me
Author:
Romily Bernard
Format:
Hardcover
Release Date:
September 23rd, 2014
In the sequel to Find Me, Wick Tate, sarcastic teen hacker, is back and once again dealing with criminals and corrupt cops…and a brooding new love interest. Will Wick persevere when some secrets refuse to stay hidden?

Wick had thought her troubles were over.

But she should've known better.

Not only is she embroiled in a new murder case, which starts with a body with "Remember Me" carved into it and doesn't stop there, but she also discovers new evidence surrounding her mother's suicide…which leads her right back to her imprisoned deadbeat dad. And she has to deal with her flirty new hacker friend, Milo, sniffing around—which her boyfriend, Griff, isn't too happy about.

The pressure might be too much as secrets—including Wick's own—climb to the surface.

Remember Me is an edge-of-your-seat thrilling read that'll have readers turning the pages at lightning speed! The paperback of Find Me is on sale simultaneously, and a digital original novella from Romily, featuring Griff, is on sale just a few weeks before!
My Stance:
Sequel to Find Me (which I haven't read, it's on my list and will be up soon), this book seems to pick up right where the last one left off. I don't really understand anything about what's going on, and frankly I don't want to read the synopsis in case of spoiling an ending or plot point in the first book. Bare with this though, I am doing a second Waiting on Wednesday this week. I switched to Gone Girl this week because of the Movie coming out soon and with The Maze Runner coming out soon as well, so Find Me got pushed back a tad bit, not much.

Find Me intrigued me because it was about a hacker who was trying to hide and believed she was hidden. I loved the points of that book, and to see that Remember me picked up shortly afterwards and that this held the same aspects and points that Find Me had. Frankly the aspect of being hidden and trying to stay hidden got me intrigued and I wanted more and more to find what the secrets are, but at the same time to see how Wick handled those secrets. I hope to get to this book soon, if not sooner.