Stacking the Shelves is hosted by
Tynga's Reviews
and is all about sharing the books you are adding to your bookshelf, be it the physical one or your digital one!

This week has been a bit busy, with a few new books and a new feature that I'm looking into doing (I will do an update about this later in the week). The movie, The Maze Runner on Sunday was a surprise, I posted a review of the movie and I hope you all have checked my thoughts out as well. I am a little lacking on funds for the next week and while I have been trying to save and spend what little I have on the new releases, I just don't have the needed funds to support that idea. I'm okay with doing what I have and my TBR pile is rather large enough the way it is (I need to address this). Anyways, this is what I have this week, and I hope you all enjoy my selections.

So without further adieu:
Shelf Additions:
On the day Liz Emerson tries to die, they had reviewed Newton's laws of motion in physics class. Then, after school, she put them into practice by running her Mercedes off the road.

Why? Why did Liz Emerson decide that the world would be better off without her? Why did she give up? Vividly told by an unexpected and surprising narrator, this heartbreaking and nonlinear novel pieces together the short and devastating life of Meridian High's most popular junior girl. Mass, acceleration, momentum, force—Liz didn't understand it in physics, and even as her Mercedes hurtles toward the tree, she doesn't understand it now. How do we impact one another? How do our actions reverberate? What does it mean to be a friend? To love someone? To be a daughter? Or a mother? Is life truly more than cause and effect? Amy Zhang's haunting and universal story will appeal to fans of Lauren Oliver, Gayle Forman, and Jay Asher.
---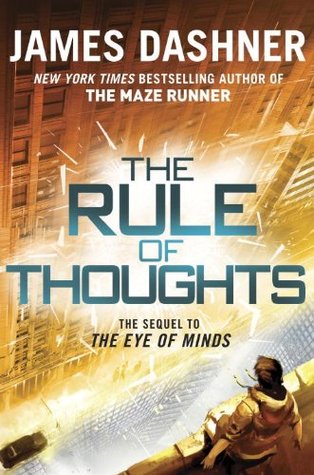 From the New York Times bestselling author of the Maze Runner series comes The Rule of Thoughts, the exciting sequel to The Eye of Minds. Fans of the Divergent series by Veronica Roth and The Hunger Games will love the new Mortality Doctrine series.

Michael completed the Path. What he found at the end turned everything he'd ever known about his life—and the world—completely upside down.

He barely survived. But it was the only way VirtNet Security knew to find the cyber-terrorist Kaine—and to make the Sleep safe for gamers once again. And, the truth Michael discovered about Kaine is more complex than they anticipated, and more terrifying than even the worst of their fears.

Kaine is a tangent, a computer program that has become sentient. And Michael's completing the Path was the first stage in turning Kaine's master plan, the Mortality Doctrine, into a reality.

The Mortality Doctrine will populate Earth entirely with human bodies harboring tangent minds. Any gamer who sinks into the VirtNet risks coming out with a tangent intelligence in control of their body.

And the takeover has already begun.
Title:
The Dolls
Author:
Kiki Sullivan
Format:
Paperback
Release Date:
September 2nd, 2014
Eveny Cheval just moved back to Louisiana after spending her childhood in New York with her aunt Bea. Eveny hasn't seen her hometown since her mother's suicide fourteen years ago, and her memories couldn't have prepared her for what she encounters. Because pristine, perfectly manicured Carrefour has a dark side full of intrigue, betrayal, and lies—and Eveny quickly finds herself at the center of it all.

Enter Peregrine Marceau, Chloe St. Pierre, and their group of rich, sexy friends known as the Dolls. From sipping champagne at lunch to hooking up with the hottest boys, Peregrine and Chloe have everything—including an explanation for what's going on in Carrefour. And Eveny doesn't trust them one bit.

But after murder strikes and Eveny discovers that everything she believes about herself, her family, and her life is a lie, she must turn to the Dolls for answers. Something's wrong in paradise, and it's up to Eveny, Chloe, and Peregrine to save Carrefour and make it right.
---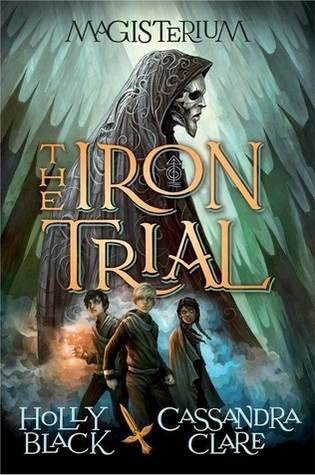 From NEW YORK TIMES bestselling authors Holly Black and Cassandra Clare comes a riveting new series that defies what you think you know about the world of magic.

From two bestselling superstars, a dazzling and magical middle-grade collaboration centering on the students of the Magisterium, an academy for those with a propensity toward magic. In this first book, a new student comes to the Magisterium against his will -- is it because he is destined to be a powerful magician, or is the truth more twisted than that? It's a journey that will thrill you, surprise you, and make you wonder about the clear-cut distinction usually made between good and evil.
---
Since arriving in Enchantment, New Mexico, everything in Daire Santos life has changed. And not all for the better. While she's come to accept and embrace her new powers as a Soul Seeker, Daire struggles with the responsibility she holds navigating between the worlds of the living and the dead. And with the fate of her boyfriend Dace in the balance, Daire must put aside her personal feelings and focus on defeating Cade, whose evil plans threaten everyone she loves and the world as she knows it.

MYSTIC is the third book in The Soul Seekers, a magnificent new series about a girl who can navigate between the worlds of the living and the dead, by #1 New York Times bestselling author Alyson Noël.
---
This hardcover edition of Lauren Barnholdt's bestselling Two-way Street is a road trip reminder: There are two sides to every breakup.

This is Jordan and Courtney, totally in love. Sure, they were an unlikely high school couple. But they clicked; it worked. They're even going to the same college, and driving cross-country together for orientation.

Then Jordan dumps Courtney—for a girl he met on the Internet. It's too late to change plans, so the road trip is on. Courtney's heartbroken, but figures she can tough it out for a few days.

La la la—this is Courtney pretending not to care. But in a strange twist, Jordan cares. A lot.

Turns out, he's got a secret or two that he's not telling Courtney. And his secrets have everything to do with why they broke up, why they can't get back together, and how, in spite of it all, this couple is destined for each other.
---
The triangular spaceship hovered motionless in the sky above Reese Holloway's house, as inscrutable as a black hole. It had seemed like a good idea when they were inside: to tell the truth about what happened to them at Area 51. It didn't seem like such a good idea now.

Reese and David are not normal teens—not since they were adapted with alien DNA by the Imria, an extraterrestrial race that has been secretly visiting Earth for decades. Now everyone is trying to get to them: the government, the Imria, and a mysterious corporation that would do anything for the upper hand against the aliens.

Beyond the web of conspiracies, Reese can't reconcile her love for David with her feelings for her ex-girlfriend Amber, an Imrian. But her choice between two worlds will play a critical role in determining the future of humanity, the Imria's place in it, and the inheritance she and David will bring to the universe.

In this gripping sequel to Adaptation, Malinda Lo brings a thoughtful exploration of adolescence, sexuality, and "the other" to a science fiction thriller that is impossible to put down.
---
Perfect for fans of the dystopian settings of The Hunger Games and Divergent, the gripping second installment of the Slated trilogy is a riveting psychological thriller set in a future where violent teens have their memory erased as an alternative to jail.

Kyla has been Slated—her personality wiped blank, her memories lost to her forever. Or so she thought. She shouldn't be able to remember anything. But increasingly she can—and she's discovering that there are a lot of dark secrets locked away in her memories. When a mysterious man from her past comes back into her life and wants her help, she thinks she's on her way to finding the truth. But this new knowledge lands her in the middle of a tug-of-war between two dangerous adversaries, and despite her misgivings about both of them, she's forced to choose a side for her own protection.