The Maze Runner by James Dashner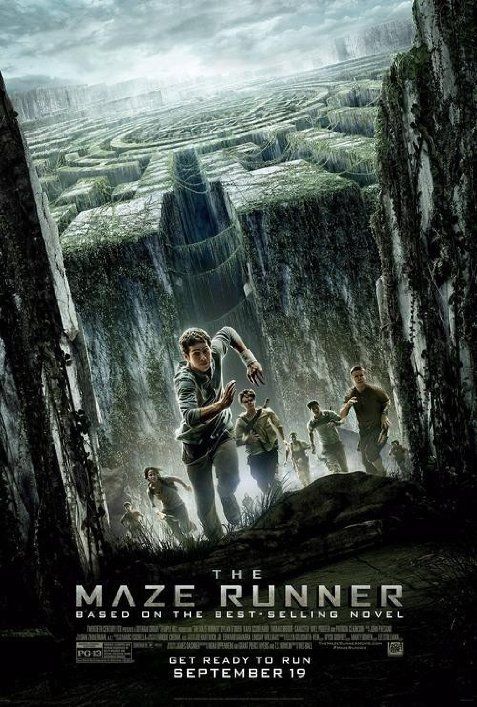 Title:
The Maze Runner
Director:
Wes Ball
Author:
James Dashner
Release Date:
September 19th, 2014
Rating: 7.0
Out of 10
Thomas is deposited in a community of boys after his memory is erased, soon learning they're all trapped in a maze that will require him to join forces with fellow "runners" for a shot at escape.
From the Book:
If you ain't scared, you ain't human.

When Thomas wakes up in the lift, the only thing he can remember is his name. He's surrounded by strangers—boys whose memories are also gone.

Nice to meet ya, shank. Welcome to the Glade.

Outside the towering stone walls that surround the Glade is a limitless, ever-changing maze. It's the only way out—and no one's ever made it through alive.

Everything is going to change.

Then a girl arrives. The first girl ever. And the message she delivers is terrifying.

Remember. Survive. Run.
Review:
So top this week was The Maze Runner and frankly with two rather large-ish movies coming out along with it, I was shocked that it took the lead. The actors while young, they put out a great performance and while I thought the whole movie was rather lackluster, but still enjoyable. I thought while other actors may be better (Jennifer Lawrence, Liam Hemsworth, Shailene Woodley, Theo James), the actors that were present brought something different and almost feral to this movie. The movie was solid survival, and while I had my doubts about how well it would have been pulled off, they brought fear and a few good adaptations to this novel.

So the plot is a rather simple, Thomas awakens in an elevator going up, remembering nothing, The elevator opens up to The Glade, and into the Maze and Grievers. The best part of the movie is how the Grievers show up and rule the maze with fear and suspense. However the plot in the beginning was a bit too fast, and while I thought it didn't get you involved or invested in their lifestyle, but I don't think they had the time to sink into that building.

Thomas (Dylan O'Brien) was portrayed great, he was done curious and confident but also with this side of humanity and fear as well. However, the realistic or believable characterization of Thomas was a bit lackluster, I didn't believe that a real teenage boy would act that way if that really happened. In the beginning he shied away from everyone and was afraid, and by the end of the day he was so curious he about ran out in the maze. Frankly I don't think any normal person would act that way, and just didn't believe it, but hey we can't be too critical.

Teresa (Kaya Scodelario) was just original an enjoyable. She was the main highlight of the movie, and Teresa was a believable character that I think we all could relate to. She was curious but not to the extent that Thomas was, but further I thought we needed to see more of her and some of the conversation with Thomas. Gally (Will Poulter) was a surprise to me, I love how he was so tormented and traumatized by their capture, and is invested in staying put. Minho (Ki Hong Lee) was another one I want to highlight, while there wasn't much of him shown (in depth-wise), he just lit up the screen. He was afraid and you believed him. The portrayal was great and I loved how there was an addition to the character that I didn't see myself.

I want to take a quick second to say one thing. I don't think the casting is what sold this movie or the plot itself. The casting was really a bunch of MTV or almost no-name teens, but it was them, they sold the movie and the plot. I don't think with anyone else, you could have put out this quality of movie. I'll probably get scolded for this, it's a underrated cast (people you don't know and don't expect to do well) putting out an All-Star movie. Now it wasn't great, it wasn't some blockbuster of movie that'll to everyones Must Watch lists, but it's definitely going to make that list someplace.

There was a few changes that I would like to take time to note, first of all. The first night when Thomas escapes and goes out to help Minho and Alby in the Maze. I didn't care for the fast past and change with how Alby was "saved," however their adaptation afterwards remedied that and tightened up the movie. The change to the Grievers were great, and while they were more mechanical than really organic and oozing blob of organic mass like in the book. However they were too noisy to be suspense, how could they sneak up on someone with their legs made such a lud. Further how can they stand on a wooden hut and not fall through with all that weight. It just didn't make sense.

While I rated the movie a bit lower than probably some others, the 7.0 is mainly because I am being hard on it. The small hick-ups through the movie just caught me off guard and I couldn't let them pass. There is a lot of good aspects of this movie, and their adaptations were great and spot on, just there wasn't much investment I felt toward the movie. I am not saying the movie is trash or simply okay, I just had issues with pieces of it. Go see it, it's a well compiled movie and done really well, I am just being harsh.