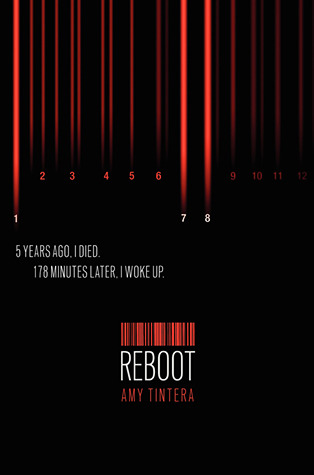 Title:
Reboot
Author:
Amy Tintera
Series:
#1 -
Reboot
Format:
Hardcover
Release Date:
May 7th, 2013
My Rating:
4.0 out of 5.0
Five years ago, Wren Connolly was shot three times in the chest. After 178 minutes she came back as a Reboot: stronger, faster, able to heal, and less emotional. The longer Reboots are dead, the less human they are when they return. Wren 178 is the deadliest Reboot in the Republic of Texas. Now seventeen years old, she serves as a soldier for HARC (Human Advancement and Repopulation Corporation).

Wren's favorite part of the job is training new Reboots, but her latest newbie is the worst she's ever seen. As a 22, Callum Reyes is practically human. His reflexes are too slow, he's always asking questions, and his ever-present smile is freaking her out. Yet there's something about him she can't ignore. When Callum refuses to follow an order, Wren is given one last chance to get him in line—or she'll have to eliminate him. Wren has never disobeyed before and knows if she does, she'll be eliminated, too. But she has also never felt as alive as she does around Callum.

The perfect soldier is done taking orders.
My Review:
Reboot was unique and frankly there was something about it that caught my eye and I enjoyed thoroughly. However the book may be great and pleasing, there are parts of it that just confuse and bewilder me. I wanted more, but not out of what was provided. Wren was magnificent and while the part of a reboot is almost zombie like. Callum was the weak character that I found I wanted more of, and wished for. Reboot was one of those novels that has possibilities, yet falls just short of the mark.

Reboot is a disease of sorts. There are those that come down with a sickness or illness of sorts and when they die, they come back alive, stronger and faster, but at the cost of emotions. They cal almost see and do what they please, but at the same time they are toys to humans, and are being monitored in a tower. They are told and trained to be servants, living in glass cages, and living life by orders. The longer a reboot is dead, the stronger and faster they come back, however it's not implicitly stated, there is a time limited one is to be dead.

Another thing that is to be stated is that the government owns all Reboots, it's illegal to hide them or support them. So the facilities/government hunts them down. The Reboots in captivity are fed a diet to keep them sustained and give them clothing and shelter. It's almost a paradise in a cage. However part of their missions is to hunt down foreign reboots and capture them for the city. It's kind of twisted how they have to capture their own kind of sorts.

When Callum enters the camp but his number is so low that he's almost not valued as anything. The Reboots form groups based on their number (how long they are dead), and that's what keeps them together, However what I don't understand is what the value of one Reboot is different from another. Neither did Wren, and while she's the highest, however it's Callum that breaks her tough exterior. Callum is full of life and emotion, but he's not like anyone else.

Reboot was a dichotomy of strength and weakness. What makes one strong, doesn't make another weak. Wren and Callum show that clearly, and while there isn't always that clear cut. The emotion and lack of between the two are what brought them together, and how they complimented each other nearly perfect. What got me most in the book was the lack of strength in Callum, he wasn't really courageous or chivalrous at all. More often than anything it was Callum who hid behind Wren. I wanted more from him.

While this book was on the better side of decent, as a dystopian I thought there are other books that were better than that. If you are looking for a strict dystopian, this probably isn't the best choice, it's okay. The sci-fi enhanced dystopian (with the Reboots) is what makes this novel unique and enjoyable. I found myself questioning whether the Reboots could be considered zombies or not, still having that debate still, but with some of the emotion from Callum I can say partially no. Reboot is just one of those books where you'll either enjoy it or hate it, there's such a specific taste to this book and I think that's probably going to be it's biggest downfall.