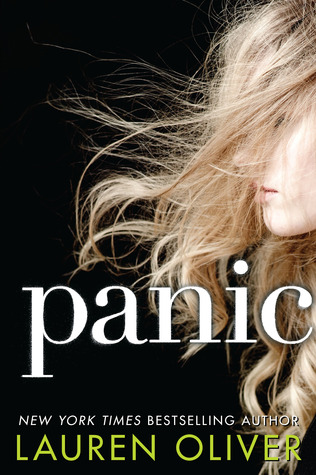 Title:
Panic
Author:
Lauren Oliver
Format:
Hardcover
Release Date:
March 4th, 2014
My Rating:
5.0 out of 5.0
Panic began as so many things do in Carp, a dead-end town of 12,000 people in the middle of nowhere: because it was summer, and there was nothing else to do.

Heather never thought she would compete in Panic, a legendary game played by graduating seniors, where the stakes are high and the payoff is even higher. She'd never thought of herself as fearless, the kind of person who would fight to stand out. But when she finds something, and someone, to fight for, she will discover that she is braver than she ever thought.

Dodge has never been afraid of Panic. His secret will fuel him, and get him all the way through the game, he's sure of it. But what he doesn't know is that he's not the only one with a secret. Everyone has something to play for.

For Heather and Dodge, the game will bring new alliances, unexpected revelations, and the possibility of first love for each of them—and the knowledge that sometimes the very things we fear are those we need the most.
My Review:
Panic was one of those books that lingered on me. I had trouble between rating it a 4.0 and a 5.0 there was no middle ground with this book, it either got it or didn't. Panic from what I gathered is paying attention to the details and catching every nuance of the book. A lot of the confusion and the reviews that I've seen struggle around how the money was gathered, and it's started in the book. I will address than in a bit, but this book takes a new vibe, character growth and a plot that takes things too far.

Panic is a game in which high schoolers, collect money from everyone (freshmen included) everyday. The judges or participants collect the money, and if someone refuses to pay they are warned and things get progressively worse until they are ruffed up by the judges. The Judges are anonymous and no one knows who they are. The judges take a cut of the money, and than the rest is given to whoever wins Panic. The point of Panic is to overcome your fear and push yourself to the limit. The first obstacle is a leap of faith into a lake, and you can do it no matter how late you are.

Heather was a complex character that took me on a wild ride. Her boyfriend just recently broke up with her and she joins Panic for the reason to prove to everyone she's just not some nobody. As she continues through the trials, the relationship with her sister and Ann (a farmer she starts to live with) changes and puts her position and competition in Panic in jeopardy. Heather, doesn't know or expect what Panic entails entirely, but she is willing to go that step further to show she's better than the expectation her small city has.

Dodge is the second main character, and he joins Panic for a complete different reason for Heather. Every act he does is planned out, and his purpose is far more sinister for being part of Panic. His sister was crippled in Panic years prior and the brother of who crippled her is taking part this year. He's out for revenge, and is completely hell bent, and there are times where you can see a brighter side to him when he realizes the friends he has. However, he's built his life around this moment, and changing that view and accepting that things are okay, just doesn't agree with him. He's so troubled and angry, it's heartbreaking to see him struggle.

A lot of this book has a Before I Fall feel, it's not about the plot completely. The character growth, how each character realizes that the world around them isn't perfect, and what they are doing the game they are playing is slowly taking a step further than everyone intended, but they are willing to take that extra step. The plot and the twists in the story fill the holes that round out the characters and their experience. While it's not as great as Before I Fall, it's so different, unique, and heart-warming to see how they grow and except the world makes this book great.

My gripe with this book was at times the pacing seemed slow, but Oliver does a great job taking that slowness and making complete use of it. Each part weaves character growth and backstory to everyone that it can't be missed. I found I reread sections of this book just to make sure I understood what was going on, which helped immensely. A lot of gripe comes with how this book isn't what they expected. Frankly throw every expectation of an Oliver book out the window with this novel; Oliver takes a complete different direction with this novel. It's refreshing and I hope she continues doing novels like Before I Fall and Panic.